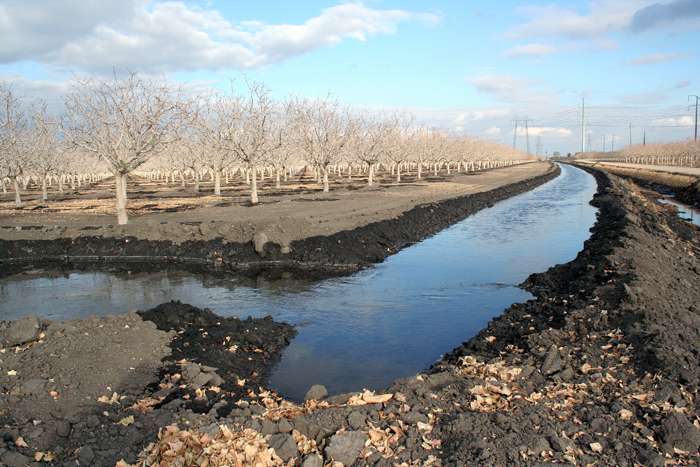 Continued drought and water management problems will extend the suffering in rural areas, state Farm Bureau president says.
Reflecting the seriousness of California's fourth consecutive year of drought, the federal Bureau of Reclamation today announced an initial 2015 water supply allocation of zero percent for most of its Central Valley Project (CVP) agricultural customers.
It's an "unprecedented situation" that agricultural water contractors in the nation's No. 1 farm state may face a second year of receiving no water from the federal project, the Bureau of Reclamation said.
Today's announcement also applies to municipal and industrial contractors.
"The CVP announcement is both saddening and maddening," California Farm Bureau Federation (CFBF) president Paul Wenger said. "It's saddening because the continued cutoff of water will prolong the impact of water shortages on farmers, their employees and rural communities. It's maddening because California still struggles to manage water wisely and flexibly, especially in dry years."
Despite several significant rain events since last fall, California continues to see extended periods of dry weather. Last month marked the driest January in recorded history for northern California. With almost two months remaining in California's rainy season, officials are hoping improved conditions materialize. That could boost CVP water supplies for agricultural users.
For now, however, the continued drought and problems in water management are combining to extend the suffering in rural communities, Wenger said. Today's CVP announcement "reinforces the need to move quickly on water projects authorized by the Proposition 1 water bond and on congressional reform of environmental laws," he added.
Wenger noted ongoing conflicts in water management, specifically about how much water is repeatedly dedicated to protection of fish and wildlife at the expense of jobs and food production for people.
"In a year like this, when every drop of water is more precious than ever, we must improve our ability to store storm flows when we can," he said. "People have real frustration about bureaucratic decisions that send excess water out to sea beyond what's needed for the ecosystem and delta water quality, when that water could be stored for later use, both by people and in the environment."
Wenger said the continued drought lends urgency to the current process of allocating money to be invested from the water bond approved by California voters last November.
"Farm Bureau and other organizations will continue to work with the California Water Commission to ensure that bond money for surface-water storage projects is apportioned as rapidly and as effectively as possible," Wenger said. "We are suffering now from our past failure to improve our water system. We shouldn't compound the suffering by studying projects to death. It's time to invest the money that Californians voted to invest."
He also called on Congress to move quickly "to provide relief from rigid environmental laws that have failed to balance species protections with human needs."
The Bureau of Reclamation said its initial allocations are based on CVP reservoir storage levels and on the Department of Water Resources' (DWR) February 2015 Runoff Forecast, which indicated another critically dry water year for both the San Joaquin Valley and the smaller Sacramento Valley. These two areas comprise California's Central Valley.
DWR reports snowpack is below average for this date, with the snow water content statewide currently at 20 percent or less of average for this time of year. 
"We are bracing for a potential fourth year of severe drought, and this low initial allocation is yet another indicator of the dire situation," said Reclamation Mid-Pacific Regional Director David Murillo. "Reclamation and the Department of the Interior will continue to work with the State of California and our water users to do everything possible to increase water deliveries from the project as we move yet another difficult year. Our economy and our environment depend on it."