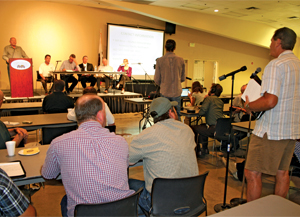 Reform seekers want to jettison the state's longtime pricing system.
California's Cornell Kasbergen can't understand why any of his fellow dairy producers wouldn't want the additional $1 per cwt. he believes they'd earn if the state adopted a Federal Milk Marketing Order (FMMO) system.

In contrast, dairyman Jamie Bledsoe of Riverdale, Calif., thinks a move to a federal pricing structure would be a mistake for California.

Those opposing viewpoints illustrate the conflict California faces as it considers establishing an FMMO.

---
Bonus Content
More on Federal Milk Marketing Orders:
---
FMMOs are marketing structures that regulate handlers. Producers request and maintain them, but FMMOs are paid for by handlers. California has had its own state pricing structure since the 1930s. Yet under it, the state's milk prices have trailed the national average. That shortfall, underscored by recent economic distress, has fueled interest in jettisoning the state system for an FMMO.

"Moving to a Federal Order is the only alternative we have," says Kasbergen, whose dairy milks 3,000 cows near Tulare, Calif. "The state is not leaving us any options."

Kasbergen is referring to recent decisions by the California Department of Food and Agriculture (CDFA), which oversees the state's dairy pricing system. In July, CDFA disappointed producers by only minimally increasing the whey portion of the state's Class 4b price formula. A few weeks later, it denied a follow-up hearing. "Our state doesn't fully recognize the full value of whey," says Kasbergen, who is a Land O'Lakes board member.

He believes the biggest difference between California's system and an FMMO is the gap between the state's 4b price and the comparable federal Class III price, which is typically higher. That discrepancy, he says, would add $1 million a day, or $1 per cwt., to dairy producers' milk checks.
Bledsoe thinks an FMMO would bring California's dairies only 30¢ per cwt. more, and only for the short term. He's concerned that higher transportation costs will cut more deeply into
prices than in other FMMOs.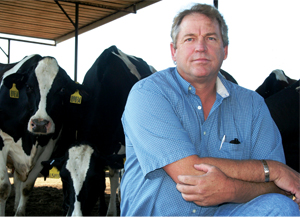 Dairy producer Jamie Bledsoe isn't convinced that moving to a Federal Order would be in California's best interest. (Photo: Catherine Merlo)
"More than a third of California's powder and butter production is sold outside of the state," says Bledsoe, whose dairy milks 1,300 cows. "If we move into a Federal Order, will we be able to compete? Can we afford to move our products? That will be a huge problem." He also points out that the state system has enhanced fluid standards, which FMMOs don't.
There are 10 FMMOs in the U.S. today. Idaho eliminated its FMMO in 2004. But Gem State producers now believe they "are leaving money on the table" by not being part of a Federal Order, says Rick Naerebout of the Idaho Dairymen's Association. Later this year, Idaho producers will consider a resolution that supports returning to an FMMO.

In May, mailbox milk prices for FMMOs averaged $16.29 per cwt., while California's average was only $13.97 per cwt., according to CDFA.

If California producers adopt an FMMO as a means to higher prices, increased milk production is likely to follow, says Mark Stephenson, director of dairy policy analysis at the University of Wisconsin–Madison. That raises questions about whether the state has adequate plant capacity to handle the greater output.

"If it doesn't, then what products would California focus on, and which markets?" Stephenson asks. A surge in milk production could, over time, "lower the price for everybody," he adds.

There's another twist in giving up the state pricing mechanism, says Eric Erba, senior vice president and chief strategy officer for California Dairies, Inc. (CDI), a cooperative that handles 43% of California's milk production. "Quota has no counterpart in an FMMO," he says. Quota is part of California's two-tiered pricing system. It's a valuable asset that may add to a producer's overall price.
No silver bullet. While there's definite FMMO interest among CDI's board and members, Erba says, there are "a whole lot of unknowns" about how it would be structured. What is known is that the FMMO hearing process can take a year or more. "They move at a glacial pace," Stephenson says. California's system is much faster.

Erba says it makes sense to explore the possibilities, but he cautions producers to consider the broader picture. "There's a misconception that going to a Federal Order is going to solve all our problems," he says. "It's not."

The California dairy business model, built on purchasing feed from outside the state and maintaining a cost-of-production advantage, has taken a beating. "That model is not going to be sustained by overlaying a different regulatory system on the California dairy industry," Erba says.

Others agree. "While there are great frustrations surrounding the depressed margins due to rising feed costs, entry into the FMMO will not bring the price enhancement California producers are seeking," says David Ahlem, vice president of dairy procurement and policy for Hilmar Cheese Co. "The only way to create sustainable increases in price or value is to incentivize innovation, investment and competition for milk in the state."