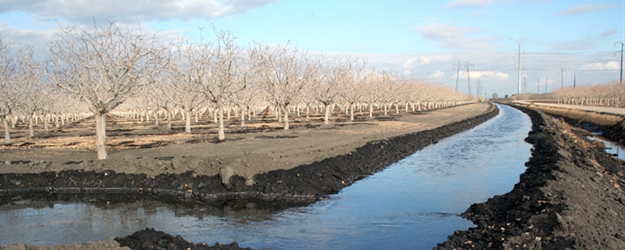 Ground zero of the multi-year drought plaguing U.S. agriculture is dead center on one of California's most productive agricultural valleys. And while heavy precipitation over the past few weeks will help relieve the state's moisture deficit, experts say the drought is far from over.
The past two years were dry statewide, especially in parts of the San Joaquin Valley. The 2014 water year, which began October 1, 2013, is no different.
"Precipitation in some areas of the state is tracking at about the driest year of record," according to the California Department of Water Resources. "Statewide reservoir storage going into our wet season (December-February) was about 75 percent of average."
While recent storms and expected precipitation could narrow the moisture deficit substantially, the Department of Water Resources says that even normal precipitation will not be enough to recharge soil moistures and reservoirs.
On February 20, the Climate Prediction Center released its outlook for the February 20 through May 31 period that calls for persisting, worsening, or developing drought throughout most of Oregon, all of California, Nevada, Arizona, New Mexico, and West Texas.
On January 31, the Department of Water Resources dropped the anticipated allocation of water to customers of the State Water Project (SWP) to zero from 5 percent. This announcement marked the first zero allocation announcement ever for SWP customers, a 54-year-old program that serves 29 public water agencies, which deliver water to 25 million Californians and 750,000 acres of farmland.
The Hay Valley
One of the most productive agricultural regions in California, the San Joaquin Valley, experienced its driest year ever last year, with only 2.7 inches of precipitation, breaking the standing record for dryness set in 1947 when 4.5 inches of rain fell on the valley.
The valley is a major producer of alfalfa, nuts, fruits, vegetables, and cotton. The southern San Joaquin valley is about 30 days away from harvesting its first cutting of alfalfa, says Randy Hammerstrom, market reporter with USDA's Ag Market News Service in Greeley, Colorado.
"California dairies are already reaching out as far east as Utah for old-crop hay," says Hammerstrom. "And hay is shipping out of the Imperial Valley and into northern California." That hasn't happened in the six years Hammerstrom has been working in his current position.
Hay prices in California have increased about $50/ton in the past two months, and hay with a relative feed value of 160 to 190 is being delivered into the northern part of the state from the Pacific Northwest and Southern California for about $320 to $325/ton, according to Hammerstrom.
"The next 30 to 60 days will determine how much hay California will have," he adds.
As of February 27, the statewide snowpack water equivalent was six inches, only 24 percent of the average.