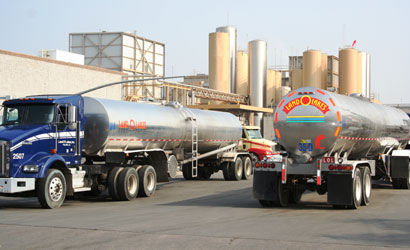 Amended formula takes effect Feb. 1; Increases 4b price by 30¢.
California's struggling dairy producers can expect higher revenues this spring after yesterday's announcement that the state will temporarily increase minimum prices by 10 cents to 30 cents per cwt. for four of its five classes of milk.
The amended price formulas will take effect Feb. 1 and will remain in place through May 31, 2013, the California Department of Food and Agriculture (CDFA) said. The overall five-class average of the pricing increases is 25.1 cents per cwt.
Dairy producer groups expressed disappointment that the pricing increases weren't higher.
"We won't scoff at any increases in producer income, but, while we knew this would be temporary, we had hoped for larger increases, especially in the 4b price," said Rob Vanden Heuvel, executive vice president with the Milk Producers Council.
Producer interests had asked for an increase of $1 to $1.25 per cwt. in the 4b price during a Dec. 21 hearing called by CDFA. Yesterday's decision bolstered Class 4a and 4b prices by 30 cents per cwt. Although smaller than producer groups had proposed, it's the biggest increase CDFA allotted among the four classes whose prices were raised.
Class 4a represents butter and dried milk powders, and Class 4b addresses cheese and whey protein powders. Those two classes account for more than 75% of California's milk use.
Dairy processors interests said they weren't thrilled with CDFA's decision either.
"Anything that increases costs makes it harder to hang on to your market," said Bill Schiek, economist with the Dairy Institute of California. The Sacramento-based trade organization represents the state's dairy processors and manufacturers.
Schiek said he estimated the pricing increase could amount to $36.2 million, based on rough calculations using numbers for last year's February-through-May milk production.
"We understand what [CDFA Secretary Karen Ross] was trying to do: balance the needs of producers for more income against the processors' need to remain competitive in the market," Schiek said.
Vandenheuvel said producers would continue to work on long-term changes to prices. "Those are not going to come from CDFA," he said.
Among producer-led efforts for long-term pricing change is a proposal to move California's regulated dairy pricing from a state-governed system to a federal milk marketing order. Another is a legislative bill introduced in December in the California Legislature. Assembly Bill 31 would keep the whey value in California's 4b formula within 80% of the regulated minimum price for whey found in surrounding states. Western United Dairymen sponsored the bill, which was introduced on by Assemblyman Dr. Richard Pan (D-Sacramento). That alignment could give California producers a price increase of 25 cents to $1.50 per cwt.
CDFA sets the formula for establishing minimum milk prices for five classes: 1, 2, 3, 4a and 4b. California processors pay for milk based on one of one of the five classes. All of those monies are blended together, or pooled, and then paid out equitably to dairy farmers.
In Tuesday's announcement, CDFA said the new price amendments would result from:
• Increasing the Class 1 price approximately $0.05/cwt. by adding:
- $0.0006 per pound to the milk fat price.
- $0.0045 per pound to the milk solids-not-fat price.
-$0.0001 per pound to the milk fluid carrier price.
• Increasing the Class 2 and 3 prices approximately $0.10/cwt. by adding:
- $0.0082 per pound to both the milk fat and milk solids-not-fat prices.
• Increasing the Class 4a and 4b prices approximately $0.30/cwt. by adding: $0.0246 per pound to both the milk fat and milk solids-not-fat prices.
The Class 4b pricing formula has been at the center of producer-led efforts for the past two years. California dairies maintain they're losing hundreds of millions of dollars from the undervalued 4b formula. They say the 4b formula's minimum price falls well below comparable prices in federal order areas.
CDFA has granted small pricing increase for the 4b formula during that time, although producers reacted with disappointment to those. In December, CDFA denied the most recent increase requests, and then called a special Dec. 21 hearing to consider increases to all five classes of milk it regulates. Tuesday's announcement marked CDFA's determination of its findings and conclusions to the Dec. 21 hearing.