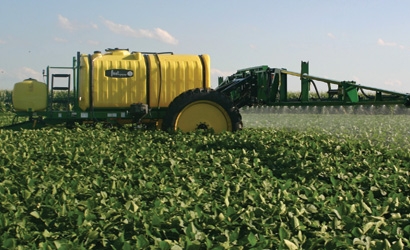 Monsanto says California's Prop 65 needs to get its facts straight in a recent complaint filed against the California Office of Environmental Health Hazard Assessment. The state recently listed glyphosate (Roundup) as a known carcinogen to its Proposition 65 list based on a controversial report from the World Health Organization (WHO) in 2015.
For background, Proposition 65, the Safe Drinking Water and Toxic Enforcement Act of 1986, is a California voter initiative that requires the state to publish a list of chemicals known to cause cancer, birth defects or other reproductive harm and must be updated a minimum at least annually. Since 1978, the list has grown to about 800 chemicals.
Glyphosate was recently added to the list based on the 2015 finding by WHO's International Agency for Research on Cancer (IARC). That agency labeled glyphosate as "probably carcinogenic" based on reviews of selected past studies, not new research conducted by WHO. Monsanto and others disagreed with IARC's report and stressed that glyphosate has been approved as safe by the European Union and regulatory agencies in the U.S.
What does the addition of glyphosate to California's Prop 65 list mean for growers? If you live and farm in California, this could be bad news. "Farmers might be pressured away from using glyphosate and have to switch to a less effective or more expensive option," says Renee Pinel, president and CEO of the Western Plant Health Association, a group that represents crop protection, fertilizer, seed and retailer groups in legislative and regulatory issues. "The biggest risk is if glyphosate is found at any detectable level in waterways the farmer could be sued and would have to prove it wasn't them or settle."
More than 250 different cropping systems in California use glyphosate so many farmers could find themselves at risk of a lawsuit--anyone can sue for "perceived health risk." "Prop 65 is written in very broad language. It prohibits discharge into drinking water, which is pretty much any surface water," Pinel says. "Plaintiffs don't have to prove guilt the farmer has to prove innocence."
She thinks Monsanto and growers might have a tough road ahead of them if the listing sticks. "The major concern is this listing is not based on a scientific review by California," Pinel says. "We think this is inappropriate."
If you don't live in California, consider this a warning. "If you see a bill that looks like it's based on Prop 65, stop it," says Pinel, who warns that a law based on the best of intentions has broadened its reach and left farmers to pay the price.