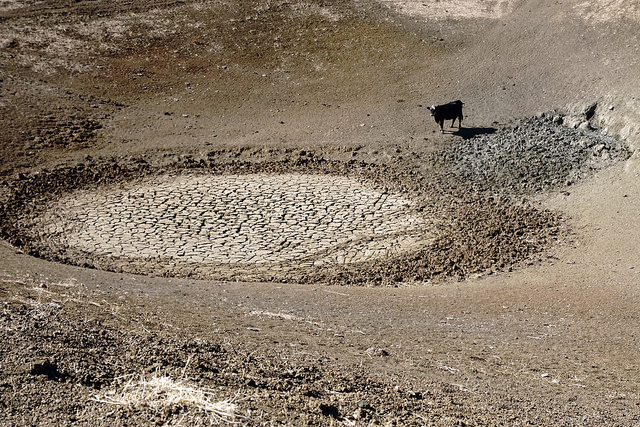 Justin Fox is a Bloomberg View columnist. He was the editorial director of Harvard Business Review and wrote for Time, Fortune and American Banker. He is the author of "The Myth of the Rational Market."
After the wettest winter in 122 years of record-keeping, California's reservoirs are filling up again, with more than 22 million acre-feet of water in the 46 reservoirs tracked by the state Department of Water Resources (they'd be even fuller if it weren't for flooding worries at the now-infamous Oroville Dam and several other reservoirs in the Sierra Nevada foothills):
The snowpack in the state's mountains, while it hasn't quite broken records across the board, currently holds even more water than the reservoirs -- about 29 million acre-feet.  

That's all great, and it means that the drought that has been tormenting the state since the winter of 2011-2012 is definitively over. But this is California, where precipitation varies so wildly from winter to winter that the state is never more than a year or two from a water shortage. The state's cities, farms and factories together use from 30 million to 40 million acre-feet of water a year. Total reservoir capacity is about 45 million acre-feet, but that includes more than a thousand smaller reservoirs, many of which aren't connected to the state's major water-supply networks. And while that "reservoir" of snow is impressive this spring, it will be almost all gone by fall.
So when several dry years leave the reservoirs parched and the mountains bare, as happened during the just-ended drought, the state has to rely on another reservoir -- the one that's underground. In 2015, by one estimate, the state's farmers pumped 6 million acre-feet more water out of the ground than in an average year. Luckily, this reservoir is huge: The state's 515 groundwater basins have an estimated capacity of somewhere between 850 million and 1.3 billion acre-feet. And, in a wet year like this one, it can be at least partially refilled.
For example, I talked this morning with Mark Larsen, general manager of the Kaweah Delta Water Conservation District, which is in the heart of the state's most productive farming region, the San Joaquin Valley. He described how, with the U.S. Army Corps of Engineers releasing water from Terminus Dam on the Kaweah River for flood-control reasons for 110 straight days now, the district has been pouring water into its 40 recharge basins (usually sandy land that's no good for crops), working with farmers to create temporary recharge areas (fallow fields with temporary dikes around them, basically), and keeping irrigation ditches full so that water can seep into the ground from them.
None of these practices is new, although their use has expanded over the years. What does seem to be new, as Bettina Boxall of the Los Angeles Times reported this week, is that some California farmers are now experimenting with flooding fields that have grapevines and almond trees growing on them. And in general, people in California are paying a lot more attention to groundwater than they used to.
In 2014, the California Legislature approved a package of groundwater-management laws -- long after most other Western states had done so -- that are now slowwwwwly beginning to take effect. Local groundwater-management agencies are being formed that will have to come up with plans to reach groundwater sustainability within 20 years.
For the moment, the state of knowledge about the state's groundwater is still pretty spotty. "It is really tough to estimate exactly how much recharge we're getting," Larsen said. Water districts know with remarkable precision how much surface water is available and how much each farmer gets, but groundwater and groundwater recharge remain largely unmeasured.
That is changing: Three years ago, the Kaweah Delta district started regularly monitoring land subsidence, a good indication that too much groundwater is being pumped. Studies using satellite images have already identified an area just south of the Kaweah Delta district (southwest of the town of Corcoran) as the state's ground zero for land subsidence, and they showed many other parts of the San Joaquin Valley to be sinking, in the process reducing the capacity of groundwater basins beneath. A study published last month estimated that subsidence in the San Joaquin Valley from 2007 to 2010 (that is, before the most recent drought) had removed about 600,000 acre-feet of groundwater storage capacity.
If California can figure out how to sustainably manage its vast underground water reservoir, wet years like this one should be more than enough to tide the state through the dry patches. But it is a bit of a race against the clock.
The snowpack in the northern Sierra Nevada was still well below the levels of 1983 and 1998 as of April 1 although it has snowed more since then.

If by this point you're wondering what's up with the acre-feet, it's the standard measure for really big amounts of water in California. One acre-foot is gallons, million liters, cubic meters enough water for a year for about 10 San Francisco Bay Areans and seven Southern Californians. Crop water use is commonly expressed in acre-feet per acre: Almonds and pistachios need about feet of applied water in California grapes rice

"Base year" groundwater use, according to the study, is million acre-feet.

The Kaweah Delta district is in the Tulare Lake Hydrological Region meaning that it doesn't actually drain into the San Joaquin River. And one of these days I will write a column that gets all pedantic about the differences between the Tulare Lake basin and the San Joaquin Valley proper. But not today.