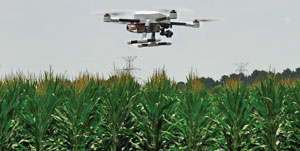 And other questions you should ask your insurance agent
The drone has been ordered, paid for and delivered. It's been pulled out of the box and assembled. The battery is charged, and it's ready to fly. But most farmers are still forgetting one important step—insurance.

Farmers might be surprised to hear their homeowners or farm liability policy might already have limited coverage of unmanned aerial systems (UAS) for recreational use, says Kurt Eaves, vice president of direct underwriting/production at Grinnell Mutual Reinsurance Company. 

It's a start, he says, but farmers also need to be asking:

"Do I have any liability coverage if I use the UAS for precision agricultural use to monitor my crops or livestock as part of my farm business?" he asks. "What about physical damage coverage for the drone itself?"

Grinnell offers property damage and liability coverage options, but Eaves says there are not a lot of insurance options in the marketplace right now. That could change, depending on upcoming Federal Aviation Administration rulings on commercial use.

The insurance industry is already responding. Risk & Insurance magazine reports 21 insurance companies currently offer aircraft products liability policies. That's up from only nine companies with policies in 2013.
Write down how you intend to use the UAS—it could also come in handy for your insurance agent. Roger Maldonado, vice president of the aviation practice group at Rural Community Insurance Services, says policies will need to reflect the unique aspects of each user, including:
Purpose of use for the unit
Takeoff and landing locations
Retrieval procedures
Altitude
Operator experience
"Be prepared to secure ample underwriting information in regard to your UAS operation," Maldonado says. "Due to the multitude of uses, underwriters will require much more additional information."

That equates to a lot of interesting liability exposures, he adds. Personal injury is possible. Machine parts can wear out and break. Privacy rights might even need to be factored in.

"This industry is in an infancy stage in terms of insurance," Maldonado adds. "Policy language will likely be adjusted through experience."

Eaves says there are other plausible scenarios insurance companies are trying to factor into coverage packages. For example, drones could potentially distract a driver or even hit a moving vehicle or low-flying aircraft.

Eaves says if you are already flying a UAS without insurance, it's not too late to pick up the phone and find out what policy options are available. 
---
Model Behavior
Most farmers don't consider themselves "hobby fliers," yet dozens have recently signed on as members of the Academy of Model Aeronautics (AMA), the pre-eminent nonprofit association for model aircraft 
enthusiasts. One major reason to join—insurance. This includes bodily injury or property damage caused by an AMA Park Pilot member, if they're flying in accordance with the organization's AMA Park Flyer Safe Operating Recommendations. Note the policy does not cover business pursuits, but certain activities on the farm (flying for fun, flying to collect farm photography or video for personal use, etc.) could qualify. Visit http://www.modelaircraft.org for details.
For comprehensive coverage about drone performance, usage, safety and many other topics, visit http://www.FarmWithDrones.com