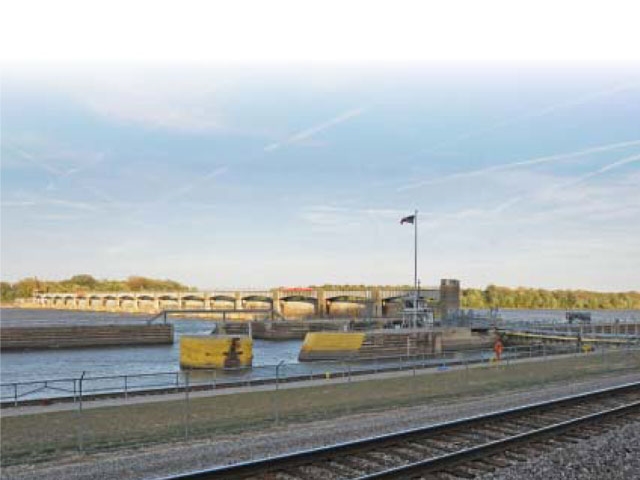 Upgrades, repairs needed as record harvest again pushes the limits on the Mississippi 
The Mighty Mississippi is mighty not only because it's the most famous river in the U.S. and the fourth-largest watershed in the world. As the heart of our inland waterway transportation system, the Mississippi River serves as our most vital artery carrying much of farmers' harvest to customers all over the world. That's why we have to keep the artery and its 29 locks working efficiently: The river system is a lifeline for U.S. participation in the global agriculture marketplace.
But what was an engineering marvel 80 years ago is far from that today; out-of-date infrastructure built in the early 20th century that was meant to last 50 years adds extra time and money to a load's trip down river. Every cent and delay added to a load threatens to make us less competitive with other markets.
As farmers wrap up harvest of the crops that will journey to foreign markets, the river system will be tested like never before. About half of this year's soybean crop, 40% of our wheat and nearly 15% of this year's corn crop will head beyond our borders to customers in other countries. When they do, the people who run the lock and dam system will be holding their breath that no major weather event or mechanical foul-up will occur. The system can't take much more. 
A study by the Soy Transportation Coalition found a mechanical failure at the La Grange Lock on the Illinois River—a vital link to the Mississippi—would cost the U.S. soybean industry nearly $3 million if it had to be shut down for just two weeks. That's just some of what's at stake for farmers this season and all year-round.

"We're going to ask the system to move more grain in October, November and December than we've ever seen in our history," says Ken Ericksen, senior vice president, transportation, Informa Economics. 

"Then throw DDGs and soybean meal into the system and we'll be testing its capacity," he adds.

"The system—from on-farm storage to rail loading facilities to expanded barge-loading facilities—has prepared to meet this demand. But if we throw a little bit of a wrinkle into it, it can get gummed up quickly," Ericksen notes.

That's why District 3 of the Iowa Corn Growers Association (ICGA) sponsored two days of Farm Journal Media's Market Rally radio program this fall: to put the river's out-of-sight, out-of-mind needs back into the everyday conversation of farmers, grain merchandisers and legislators. The comments in this story are from that taping.
This fall, the House and Senate managed to pass separate bills that authorize needed maintenance and upgrades to the waterway system. Many industry analysts believe Congress will reconcile the two pieces of legislation during the lame-duck session after the election. But even if they do, separate legislation will have to be passed to fund the authorization—the critical stage that's prevented any significant upgrades up to now.

The Navigation and Ecosystem Sustainability Program (NESP) would solve much of the problems, if it could only get more funding, says Tom Heinold, deputy chief of the operations division, Rock Island District of the U.S. Army Corps of Engineers. 
"Right now, within the region of the upper-Mississippi and the Illinois waterway, a major rehabilitation is at the top of our priority list to get our locks into a reliable state," he says. "In the region, we have the top priority in the nation at LaGrange Lock on the Illinois waterway, but we have an ongoing need to make serious repairs to these locks and dams to keep them running. We do have major construction and rehabilitation on this infrastructure that needs to happen."

NESP authorizes the building of 1,200' downstream locks that handle higher tonnages, and it would implement smaller measures at other locks to improve reliability and efficiency of the navigation system, Heinold says.

Take Lock and Dam 10 at Guttenberg, Iowa. Lockmaster Sam Mathiowetz says its old infrastructure costs the industry extra time and money.

"Lock and Dam 10 has a 600' chamber, but the average tow coming down is three barges wide and five barges long. Add the towboat to it and the tow approaches 1,200'," Mathiowetz says. 

"They break off the first nine barges and put them through the lock in what we call 'a cut.' We lock those barges through and tie them off. Then we have to go back and lock the last six barges and the towboat through. You're looking at an hour and a half to two hours, depending on the crew, equipment, weather, current and everything that can affect the process," he says. 

"If we had a 1,200' chamber, they come in and we do one lockage and they're done. Now we're talking about 30 to 40 minutes from their final approach until they're clear and the next boat can come up and get ready. Basically what we're talking about is going from a two-lane county road to an interstate system," he explains.

Heinold of the Army Corps gives Mathiowetz and his crew major credit for keeping the lock up and running. "Fortunately, we have great crews out there that are really good at using baling wire and duct tape to keep this 80- to 90-year-old stuff going," he says.

But baling wire and duct tape are no insurance for U.S. farmers.

The missing piece is regular funding, says ICGA Chairman Bob Hemesath. "There are seven locks in NESP that would be extended to 1,200'. If we could just fund NESP on an annual basis it would give the Corps the ability to make a long-term plan."
Any maintenance and repair plan—while necessary to avoid an expensive hiccup in grain flow—is a plan only to maintain the system. It's not progress. And progress with infrastructure is exactly what's happening in countries around the globe, such as Brazil and Argentina, that compete for the same grain buyers U.S. farmers rely on to chew up our ever-expanding production capabilities. 

That's why efficiency in our transportation system matters—not only for agricultural products moving down river, but for agricultural and consumer products such as petroleum, cement, scrap steel and coal that move up the river. Efficiency lowers costs for the supply chain and for consumers.

"Our competitors are doing the stuff that we should be doing," Hemesath says. "They're upgrading."

It all matters to the bottom line of each and every farmer. 

"It's incredibly important to our local markets from a basis perspective," says Tim Recker, ICGA past president. "It would lower the cost of freight on corn and soybeans going down river and the costs for moving fertilizer back up river. It's a cost-savings, which means higher efficiency, and higher efficiency translates into more potential profit."

Iowa farmer Tim Burrack explains it a different way.

"A tow takes $2,000 to $3,000 an hour to operate and when you try to push a 1,200' tow through a 600' lock, it takes too long," he says. 

"If you can save a quarter- to a half-cent per bushel with 1,200' locks, we can save 4¢ to 6¢ per bushel by the time a barge gets to New Orleans. That money could be the difference between making a sale around the world or keeping the corn in our bins. 

"That's why we need to upgrade these locks," Burrack says.  
Catch Chip Flory's daily radio show at 2 p.m. CST on the Farm Journal Radio app or AgWeb.com/market-rally