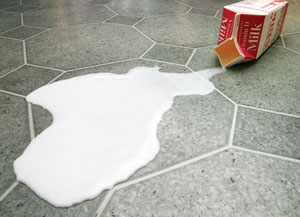 When you're outcompeted and outinnovated, that is the question
The numbers are downright dismal. And getting worse. "When fluid milk price increases peaked in November 2011 at a national average price of $4.11 per gallon [a 12.6% increase over the previous year], volume declined 5%, or about 11 million gallons, at retail that month," says Tom Gallagher, CEO of Dairy Management Inc. (DMI).
"The problem is that each time this cycle occurs, we see more and more consumers leave the category and buy less milk. Some consumers don't resume purchasing when the price drops back down," he says.
"So, over time, we essentially teach consumers that they can live without milk."
Last spring was a prime example. By March, inflated national prices had dropped back to $3.89 per gallon. But sales were still down 13 million gallons for the month versus the previous year.
The solution, if one can be found, will have to be systemwide—involving everyone from the dairy farmer to the processor to the retailer. Even then, without pricing and regulatory reform, little can be accomplished.
Mike McCloskey, co-owner of Fair Oaks Farms in Indiana and CEO of Select Milk Producers, says changes to reinvigorate the desirability of milk start at the farm.
---
Bonus Content
---
Fifty years ago, milk was delivered daily to homes—cold and delicious. "Today, people don't think of milk as that desirable beverage—we haven't protected that image," McCloskey says.
Members of Select Milk Producers must deliver milk that has a bacteria count of less than 5,000 per milliliter and somatic cell count of less than 200,000 cells/ml. Plus, the milk must be instantly chilled to 38°F to ensure freshness through processing.
Delivering fresh milk with no off-flavors is just the start. "We've commoditized milk, making it a loss leader that is sold at the back of the store with no margins left," McCloskey says. "We have an archaic pricing system with the 'higher of' [Class III or IV setting minimum Class I prices] and huge swings in volatility."
The "higher of " system makes it virtually impossible for processors to hedge against price volatility. And the huge swings in price shock consumers and reduce sales.
Possible solutions include a single class for all milk, with Class I differentials riding above the single price based on location, McCloskey says. While this is hugely controversial, he believes prices would reach equilibrium after a period of adjustment.
He also suggests rolling averages of three, six or 12 months as a way to attenuate volatility.
Product innovation to meet an aging population is also critical. In the 1980s, 50% of the U.S. population was younger than 30. Today, that number has dropped to about 40%, and nearly 20% of the population is 60 years or older.
Those demographics alone change how much milk is consumed. While young people might consume 50 fluid ounces of milk per week, older people consume less than half that amount.
"We need new, innovative dairy products for mature people," says John Kaneb, chairman of HP Hood. "There are huge markets for 50-, 60- and 70-year-olds. We need better-for-you products with more protein, more calcium and low fat, and no-fat products for the lactose intolerant.
"These will be nichey little product lines and won't have large volumes to start with. They might not even be noticeable in your milk check at first," Kaneb says. But without them, milk has little chance of competing for older consumers.
Other obstacles come into play: how new products are classified, how they fit into rigid standards of identity and how they must be priced. "We need to be able to compete with vegetable- and nut-based beverages," Kaneb says.
In September, DMI approved six proposals with individual milk processors to accelerate product innovation, extend milk's availability into new channels and secure additional resources to market fluid milk, Gallagher says. DMI has committed $9 million to the effort so far, and processors have ponied up an additional $71 million.
The projects include:
An 18-pack shrink wrap of single-serve milk bottles that can be used in club stores.
Market research testing of "on-the-go" fluid milk breakfast product concepts.
Fluid milk "refuel" products for muscle recovery following exercise, to be sold in health clubs and nutrition stores.
Licensing to leverage a strong consumer brand with a new portfolio of dairy products containing probiotics.
Continuing work with a leader in lactose-free products, including social media and brand marketing.
Test marketing to families of half-gallon, lactose-free milk with higher protein, calcium and lower fat.
 
"DMI has also created an Innovation Fund Task Force to work with industry leaders to identify potential pilot programs in gallon and half-gallon products," says David Pelzer, senior vice president of industry image and relations for DMI.
"This includes taking a comprehensive approach to product formulation, packaging, placement and marketing/promotion of fluid milk at retail," he says.
Oatmeal To The Rescue
Despite all the hype over product innovation, something as simple as oatmeal could prove to be a key fluid milk mover.
Some 9 billion servings of oatmeal are prepared annually. But less than a third of those are prepared with milk. "Each 1% increase would mean an additional 30 million pounds of milk sold," says Tom Gallagher, CEO of Dairy Management Inc. (DMI).

To that end, DMI has partnered with Quaker Foods & Snacks, a division of PepsiCo. Jose Luis Prado, president of the division, says he sees the partnership as the perfect way to build sales for both operations.

For example, Quaker has partnered with Müller, a German dairy company, to produce yogurts that contain oat-based granola and crispy crunches. The products tap into both the emerging Greek yogurt boom and a desire to eat healthier with whole grains. Quaker is also pioneering new products such as yogurt strawberry granola bars.
Its partnership with Quaker Foods also ties DMI into PepsiCo, the second largest soft-drink marketer in the world. Last year, PepsiCo announced its interest in including dairy products in its worldwide product portfolio. That alone has huge market potential, say industry observers.