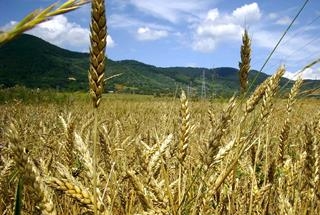 Canada lowered its forecast for domestic wheat production, and farmers will harvest more canola than previously estimated, the government's statistics agency said today.
Wheat output will drop to 27.5 million metric tons from a record 37.5 million in 2013, Statistics Canada said in a report. The average estimate of analysts surveyed by Bloomberg was 27.7 million, the same as the government forecast in August. The canola crop will reach 14.1 million tons, compared with the prior projection of 13.9 million and a record 18.0 million last year. The latest figure matched analysts' estimate.
Wet weather delayed seeding across parts of the prairies, and harvest progress was slowed by rain and below-average temperatures. Statistics Canada said that at the time of the survey, "some prairie farmers reported harvest areas being subject to damaging weather events, such as hail and snow."
"The data was gathered too early to tell us what the crop is," said Ken Ball, a senior commodity futures adviser at PI Financial in Winnipeg, Manitoba, said in a telephone interview. "It's difficult to know how much we're going to get."
The government survey covered about 9,300 farmers from Sept. 4 to Sept. 14.
Spring-wheat output will fall 27 percent to 19.9 million tons, while durum will decline 27 percent to 4.8 million. Soybean production is expected to climb to 6 million tons, surpassing the all-time high of 5.4 million tons a year earlier, the government agency said. 
Canola Prices
 Very little of the crop was combined during the survey period, and the canola harvest is still only 50 percent to 60 percent complete across the prairies, Ball said.
Canola prices are unlikely to change as a result of the estimates due to "overwhelming" supplies of U.S. oilseed, he said. Some processors can substitute soybeans for canola.
U.S. soybean output will rise to an all-time high of 3.913 billion bushels this year, the Department of Agriculture said Sept. 11. Canada is the world's largest canola grower.
Canola prices declined 11 percent this year through yesterday on ICE Futures Canada in Winnipeg. Wheat futures on the Minneapolis Grain Exchange slid 16 percent.
Farmers in Saskatchewan, Canada's largest producer of spring wheat and canola, combined 68 percent of the crops as of Sept. 29, down from 79 percent a year earlier and the five-year average of 72 percent, according to a provincial report.
Farmers collected record supplies of wheat and canola in 2013 amid higher average yields. Yields are expected to decline in 2014, and total crop production is forecast to decrease by 20 percent to 76 million tons, Agriculture and Agri-Food Canada said in a Sept. 18 report.