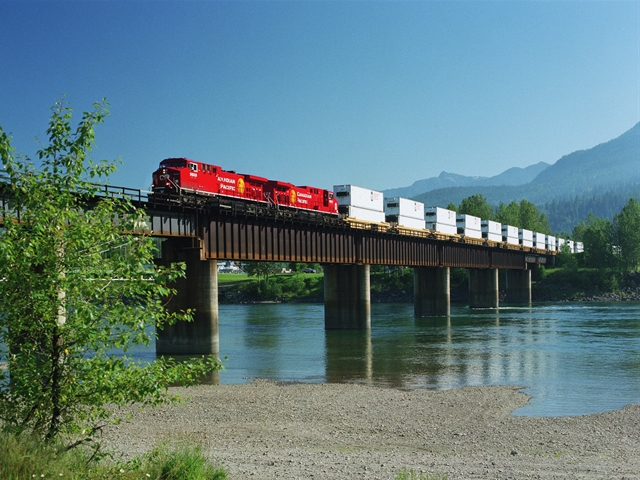 After Eric Fridfinnson's record harvest a year ago, some grain was stuck on his Arborg, Manitoba, farm for six months waiting for railcars. Even with a wheat crop a third smaller, he's still got a three month backlog to ship it south to the U.S.
"They just haven't had the cars and we have to sit and wait," Fridfinnson, who farms 8,000 acres of wheat, flax and oats about 75 miles north of Winnipeg, said in a Jan. 29 interview. "It's no different than any person waiting two months for their paycheck."
Canadian grain sales to the U.S. and Mexico have plunged 35 percent following a government order designed to relieve the backlog that piled up in 2014, according to the Ag Transport Coalition, which represents grain, oilseeds and pulse crop-shippers. Canadian National Railway Co. and Canadian Pacific Railway Ltd. must move as much as 465,000 tons a week through at least March to avoid fines.
They've chosen to increase two-week trips from the prairies to Vancouver or Thunder Bay, Ontario, rather than month-long journeys to some U.S. destinations, Wade Sobkowich, executive director of the Western Grain Elevator Association in Winnipeg, said by phone Jan. 27. The group represents companies including Richardson International and Cargill Ltd.
Western Canadian producers stand to lose more than C$2 billion ($1.6 billion) this year because of continued export delays, the Saskatchewan Wheat Development Commission said in a Feb. 11 statement.
Better Prices
Prices for wheat at grain elevators are more than a dollar a bushel higher in North Dakota and Montana, John Duvenaud, the publisher of Wild Oats Grain Market Advisory in Winnipeg, said in a Feb. 4 conference call. "There's a lot of wheat and other crops being moved, being trucked to North Dakota, Montana," he said.
U.S. buyers are sourcing grain from other suppliers as Canadian companies are not confident they will get enough rail cars to deliver on southern rail corridors, Ralph Goodale, deputy leader of the opposition Liberal Party, said in a Jan. 26 telephone interview from Ottawa. The shortage has the biggest impact on farmers in Saskatchewan who are "caught in the middle" and furthest away from eastern and western delivery points, he said.
Kazakhstan Flax
U.S. oat buyers stockpiled as much grain as they could before winter after millers struggled to get supplies from Canada last year, Dan Anderson, a commodities broker with ED&F Man Capital Markets in Chicago, said in a Feb. 10 telephone interview. While most imported oats still come from Canada, shipments from Finland have increased, he said.
Archer-Daniels-Midland Co. recently chose to ship flax from Kazakhstan to Minnesota instead of supplies from Canada, said Fridfinnson, who is also the chairman of the Manitoba Flax Growers Association.
"One of their solutions was to buy flax in Kazakhstan, have it railed north through Russia, brought by boat to the southern U.S. and brought up the Mississippi by barge," said Fridfinnson. "That appeared more reliable than bringing grain from Canada."
Jackie Anderson, a spokeswoman for ADM, declined to comment.
Farmers harvested record wheat and canola crops in 2013 and a shortage of rail cars left as much as C$20 billion worth of grain stuck on prairie farms last winter. Railways have not filled 17,701 orders for grain cars since August, about 10 percent of the total demand from shippers, Ag Transport Coalition said in a Feb. 10 report. More than 8,200 rail car orders have been outstanding for four weeks or longer, according to the report.
Record Shipments
Railroads say they are moving record amounts of grain. CN's shipments are up 18 percent between August and the end of January compared with the same time period a year earlier, Chief Executive Officer Claude Mongeau said in a Feb. 9 statement. The railway's cumulative grain tonnage has exceeded the government's mandated volumes by 2 million tons since March, according to the statement
There's no need to renew mandatory grain minimums, Keith Creel, Canadian Pacific president and chief operating officer said Feb. 10 at a Stifel, Nicolaus & Co. conference in Key Biscayne, Florida.
'Not Needed'
"Number one, not needed," Creel said. "Number two, it didn't make us move more grain. Number three, I don't think the mandate's going to be renewed after this crop year."
Wheat exports to the U.S. more than doubled between August 2010 and the end of the 2013 crop year, before a sharp pullback. Canada shipped 392,500 metric tons of wheat to the U.S. between August and December, down 58 percent from 937,600 tons a year earlier, Canadian Grain Commission data show. Canola exports declined 49 percent to 115,600 tons during the same time period, government data show.
Last year, Fridfinnson, who's been farming since 1977, trucked his flax to a crush plant in Fargo, North Dakota. Waiting to deliver on grain contracts puts a strain on cash flow and reduces the opportunities for farmers to sell grain when prices rally, he said.
"The more people get desperate for rail cars, the more they're willing to do anything to access them," Fridfinnson said. "It really is a perversion of the market system."