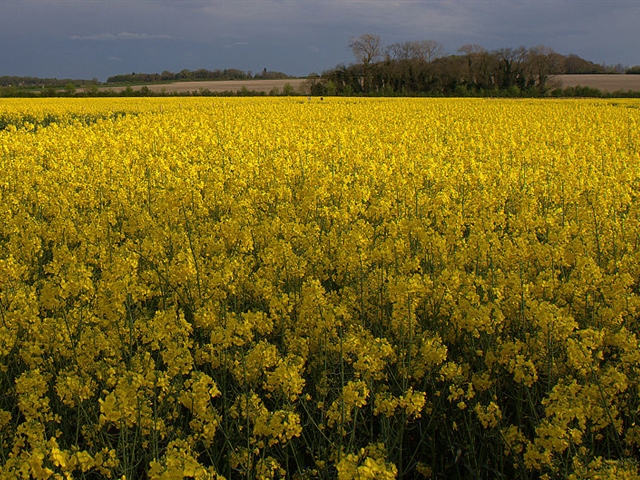 Canada boosted its forecast for domestic wheat and canola production after farmers harvested bigger crops than projected in October, the government's statistics agency said today.
Wheat production will reach 29.3 million metric tons, compared with the previous forecast of 27.5 million tons and a record 37.5 million in 2013, Statistics Canada said today from Ottawa. The average estimate of analysts surveyed by Bloomberg was 27.5 million tons. The government also raised the outlook for canola.
Portions of the prairies had a record-wet growing season, and harvest progress was slowed by rain and below-average temperatures. Farmers in parts of Alberta and Saskatchewan were still able to collect more than indicated in the prior survey, and yields in areas with heavy rainfall "weren't great, but they still came in better than expected," said Ken Ball, a senior commodity futures adviser at PI Financial.
"It's a bit of a shock to everybody," Ball said in a telephone interview from Winnipeg, Manitoba. "It's extremely rare at this stage of the game for the numbers to be out this much."
The canola harvest in Canada, the world's largest grower, may reach 15.6 million tons, up from the government's previous forecast of 14.1 million tons. Analysts expected 14.4 million tons, on average. While output will fall 13 percent from last year's record crop, "2014 canola output still represents the second-highest production level on record," Statistics Canada said.
Delayed Harvest
Widespread flooding prompted municipalities in Saskatchewan and Manitoba to declare a state of emergency after June storms, and Saskatchewan's agriculture ministry estimated floods may ruin as many as 3 million acres of crops.
Farmers reported that the timing of rain throughout the fall led to a delayed harvest and lower yields in some areas, Statistics Canada said today.
Spring-wheat output will decline 22 percent from a year ago to 21.2 million tons, while durum will drop 20 percent to 5.2 million. Soybean production is expected to climb to 6 million tons, surpassing the all-time high of 5.4 million tons a year earlier, the government agency said.
The government survey covered about 26,200 farmers from Oct. 22 to Nov. 13.
Bearish Prices
The increase in wheat output "is fairly substantial" and is bearish for futures on the Minneapolis market, Bruce Burnett, weather and crop specialist at CWB, said in a telephone interview. Very little of the crop had been harvested during the previous government survey, and crops that survived heavy rainfall and flooding probably generated reasonable yields, he said.
"I think there were more negative expectations on what the yields were going to be in those areas," Burnett said.
Canola prices declined 8.8 percent this year through yesterday on ICE Futures Canada in Winnipeg. Wheat futures on the Minneapolis Grain Exchange slid 2.2 percent.