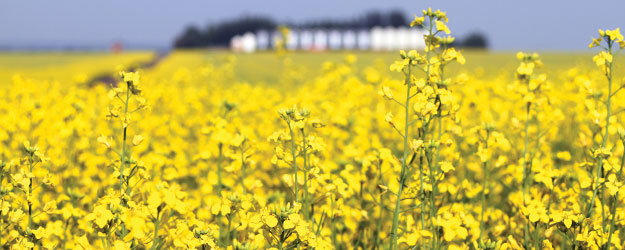 Canadian producers in the prairie provinces of Alberta, Saskatchewan, and Manitoba are harvesting big crops of wheat and barley, but canola and oat production is expected to be lower this year due to heat and disease.
Since Canada is the world's largest producer and exporter of canola, a smaller crop could disrupt supply chains at a time when supplies of protein feeds are already tight.
Statistics Canada released its production estimates for principal field crops Thursday, October 4, which showed the country's total wheat production is forecast to be substantially larger than either the 2010-11 or 2011-12 crops.
Spring wheat production for 2012-13 is estimated at 18,641 million tons, up 3.4% from last year. "Farmers had pretty good spring wheat yields across the prairies," says David Drozod, senior analyst with Ag-Chieve, Winnipeg, Manitoba. "Protein levels are coming in at about 13 to 14%." Canada's estimated total wheat production of 26.7 million tons for the current crop year is 5.8% larger than 2011-12 production. Last year's crop was 9% larger than the 2010 crop.
The country's canola crop, however, has run into problems. Statistics Canada estimates 2012-13 canola production at 13.359 million metric tons, substantially lower than the average trade estimate of 14.7 million metric tons. "There were reduced yields across the prairies," says Drozod. But it was a surprise that Statistics Canada reduced canola production by such a large amount, he adds.
ICE November canola futures jumped more than $15/ton to $610/ton in response to the report.
Excessive heat during the growing season, particularly in Saskatchewan when the canola crop was flowering, hurt canola production, says Drozod. Aster yellows, a disease that typically doesn't affect the prairie provinces, was also an issue this year. Aster yellows affects 300 species of plants and is transmitted by the aster leafhopper.
Despite an expected 7.8% year-over-year reduction in canola production this year, the crop will be the country's second largest ever. Last year's crop of 14.5 million metric tons is the all-time production high. Last year's canola production was 13.5% larger than 2010's 12.77 million metric tons.
This fall for the first time ever, the Canadian Wheat Board (CWB) will begin marketing canola. The wheat board added canola because Canadian producers were interested in using the pool programs to hedge risk. "Farmers have been telling us they want CWB to run canola pools to help manage their price risk and provide them with reliable returns through a system they can trust," said CWB president and CEO Ian White in a news release.
Barley production of 8.5 million metric tons is forecast to increase 10.8% from the 2011-12 crop. Oat production of 2.94 million metric tons is forecast to drop 2%.
---