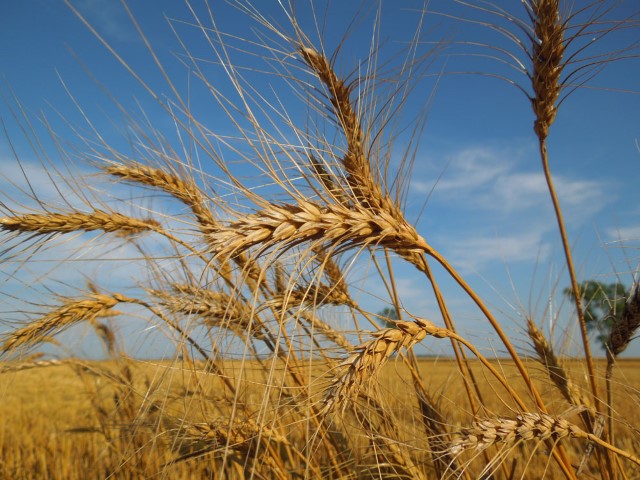 Canada's all-wheat production grew by 50,0000 metric tons, while canola production declined, according to final 2012 estimates, released Dec. 5.
According to Statistics Canada's, all wheat production of 27.2 million metric tons was close to the expected 27.1 million tons but nearly 2% larger than the previous report released in October. In July, Statistics Canada was expecting a total wheat crop of only 24.8 million metric tons.
Durham wheat production of 4.63 million metric tons was higher than the average trade guess of 4.5 million tons and 232,000 tons larger than the previous estimate.
"Durham had a slightly better finish," says Neil Townsend, market analyst with the Canadian Wheat Board, and the commentator on an MGEX conference call following the release of Canada's Production of Principal Field Crops report. "Extra wheat will have a home in the offshore markets," says Townsend.
With Australia production expected to be smaller, Argentina's wheat harvest running into weather issues that have decreased the quality of the crop there, the smallest stocks ever in Europe since the formation of the EU-27, and Russia and Ukraine out of the export market, the United States will be the primary source of exports moving forward, he adds.
"I don't expect huge premium to be built into the market or to be sustained," he adds.
A slowdown in world wheat exports is anticipated, which could mean that the price highs for the year are in, says Townsend. At the same time, though, hard red winter wheat condition in the United States is the worst on record and drought continues to persist and worsen in all six major wheat-growing states.
Canola
Canola production of 13.3 million metric tons was lower than expected but slightly larger than the government's previous estimate of 13.2 million metric tons. Analysts had been anticipating a crop closer to 13.7 million metric tons.
"Canola is the rock star of Canada," says Townsend. "That's what people want to grow."
Townsend expects Canadian soybean crushers to offer incentives to growers next spring during planting season to ensure enough acres are planted to canola. "It will be difficult to add to canola acres, but canola won't lose a lot of acres," says Townsend. "Canola will hold its acres. The crushers in Canada don't want to lose any acres of canola."
Barley
Barley production of 8 million metric tons is up 1.5% from 2011 output, but still small compared to historical production. Manitoba farmers reported barley production more than doubled from 261,300 tons last year to 618,300 tons this year.
"We've had two consecutive small barley crops, which means there will be less feed grain in Western Canada," says Townsend. "We'll have to watch that carefully."
Corn and Soybeans
A record-large corn crop, however, will help Canadian livestock producers. Corn production for the current crop year hit 13.1 million metric tons, a 15% increase from last year. In Ontario, corn for grain production jumped 11.3% to a record 8.6 million metric tons. Quebec farmers increased corn production by 12.2% to 3.5 million tons.
Soybean production increased 14.7% to a record 4.9 million metric tons. Ontario soybean production of 3.3 million tons was both a record and 8.4% larger than a year ago. In Quebec, soybean production increased 3.1% to 825,000 tons, and Manitoba farmers reported record soybean production of 759,300 metric tons.
Canada's corn production is consumed primarily in Canada, but surplus soybeans are being exported. "We are now exporting soybeans out of western Canada, which is rare," says Townsend. Regardless of one's views on climate change, for the past few years, Townsend says weather conditions in Manitoba have favored planting corn and soybeans.
 
---