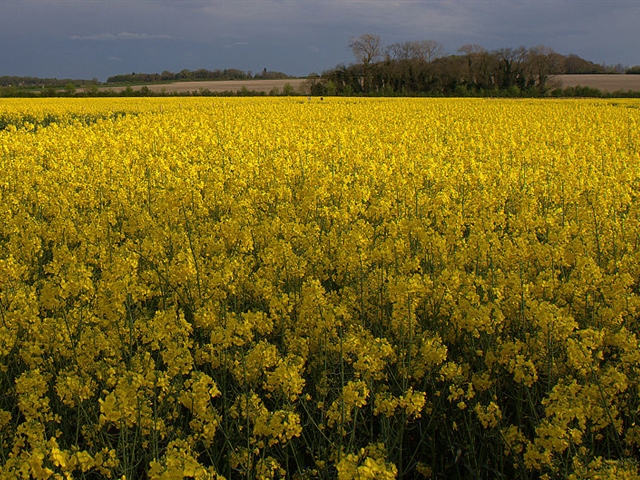 For the first time in the two decades that Craig Eger has been working his 4,100-acre farm in south-central Saskatchewan, he's got all his lentils planted before mid-May, and he's almost done sowing durum wheat.
"I've never been this far ahead," Eger, 37, said in a May 4 telephone interview from Coronach, where he's still working to sow mustard seed, canola and chickpeas. "I'm almost half done seeding."
He's not alone. Warm, dry weather has allowed farmers to get an early jump on the planting season across the prairie provinces of Canada, the world's top canola grower and second-largest wheat exporter, government data show. Progress is the fastest in three years and as much as two weeks ahead of normal, said Bruce Burnett, weather and crop specialist with Winnipeg, Manitoba-based grain marketer CWB. The pace comes after a cool, wet spring delayed sowing in many areas last year.
The seeding rate has progressed so quickly and improved yield prospects that it is "mildly bearish" for wheat and canola prices, said John Duvenaud, the publisher of Wild Oats Grain Market Advisory in Winnipeg. Prices may remain under pressure for the next few weeks until dryness may emerge as a concern to spur a rally, he said.
"One of the reasons seeding is proceeding so well is because it's dry," Duvenaud said in a telephone interview. "That's good news for the market now, but it's going to be bad news if it persists a month from now."
Wheat and soy futures in Chicago dropped more than 30 percent in the past 12 months, while canola prices in Winnipeg lost about 4 percent.
Sowing Completed
Some growers in the southern parts of Saskatchewan and Alberta have finished seeding, said Norm Hall, president of the Agricultural Producers Association of Saskatchewan. Areas that suffered excess moisture last fall and rainfall this spring are ahead of last year's planting pace, he said.
Farmers in Saskatchewan, the nation's largest producer of canola and wheat, have sown 14 percent of the provincial crop, up from the 10-year average of 4 percent, Saskatchewan's government said in a May 7 report.
Parts of central Manitoba have sown 95 percent of cereal crops, and the earliest-seeded wheat has started to emerge, the province's agriculture ministry said in a report on May 4. Alberta, in a May 8 statement, said 27 percent of the province's crops have been sown, the fastest pace since 2006, according to a May 8 statement.
Frost Risk
Plants may be at risk of frost damage as below-normal temperatures are forecast for the next week across the prairies, CWB's Burnett said. Farmers typically sow crops such as wheat and peas first, which are less vulnerable in colder temperatures than canola and soybeans, he said.
This year, Eger started seeding April 24, almost two weeks earlier than a year ago when fields were soaked from spring rain. He's already planted all of his 1,200 acres of lentils and two-thirds of his 1,500 durum acres. Eger said he's not worried about a temporary drop in temperature as long as milder temperatures return.
"We're just going to chip away at it here and not kill ourselves, now that we're this far ahead," he said.