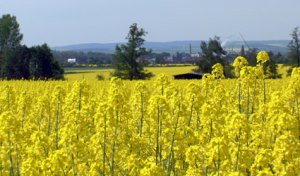 Wheat stockpiles before this year's harvest in Canada, the world's second-largest exporter, rose 93.9 percent from a year earlier, according to a government survey.
Wheat supplies increased to 9.80 million metric tons as of July 31 from 5.05 million tons a year earlier, Statistics Canada said today in a report. The average estimate of seven analysts surveyed by Bloomberg News was 10.98 million tons.
Canola reserves increased more than four times to 2.36 million tons from 588,100 tons. This was still below analysts' expectations for 3.35 million tons.
Statistics Canada said it interviewed about 12,850 farmers between July 23 and Aug. 4.