A stone's throw from the banks of the Mississippi River and the Helena Bridge, Mikey Taylor wades into fields of yellow on his east Arkansas ground and points across 450 acres of a debut, waist-high crop in full April bloom—canola. Watching and waiting for June harvest, Taylor hopes to add the oilseed to his crop lineup: "It's early, but canola could be another option for my farm and it might pay better than wheat."
Could canola grain traction in the Mid-South as a potential wheat rival, double-crop candidate and follow-up yield booster? Linked in a three-year rotation, the longer growing seasons and warmer Southern weather may open a path for double-cropping beyond soybeans, and extend into corn or cotton.
Long Lake
Taylor, 40, pulls the levers at Long Lake Plantation (a family operation dating to 1938) in Phillips County, and planted canola for the first time in October 2018. "I'd say management-wise, canola has been close to wheat."
Brian Caldbeck, an agronomist and owner of Caldbeck Consulting in Philpot, Ky., compares canola input requirements with wheat management. Both crops share a similar fertilizer profile, he explains: "Canola may need a little more N, and a bit more sulfur and minor nutrients, but nothing dramatic (15-20% more nitrogen and 50% more sulfur). Overall, risk is easier to manage with canola, with no vomitoxin or test weight issues. Also, there are no equipment investments to consider," he emphasizes.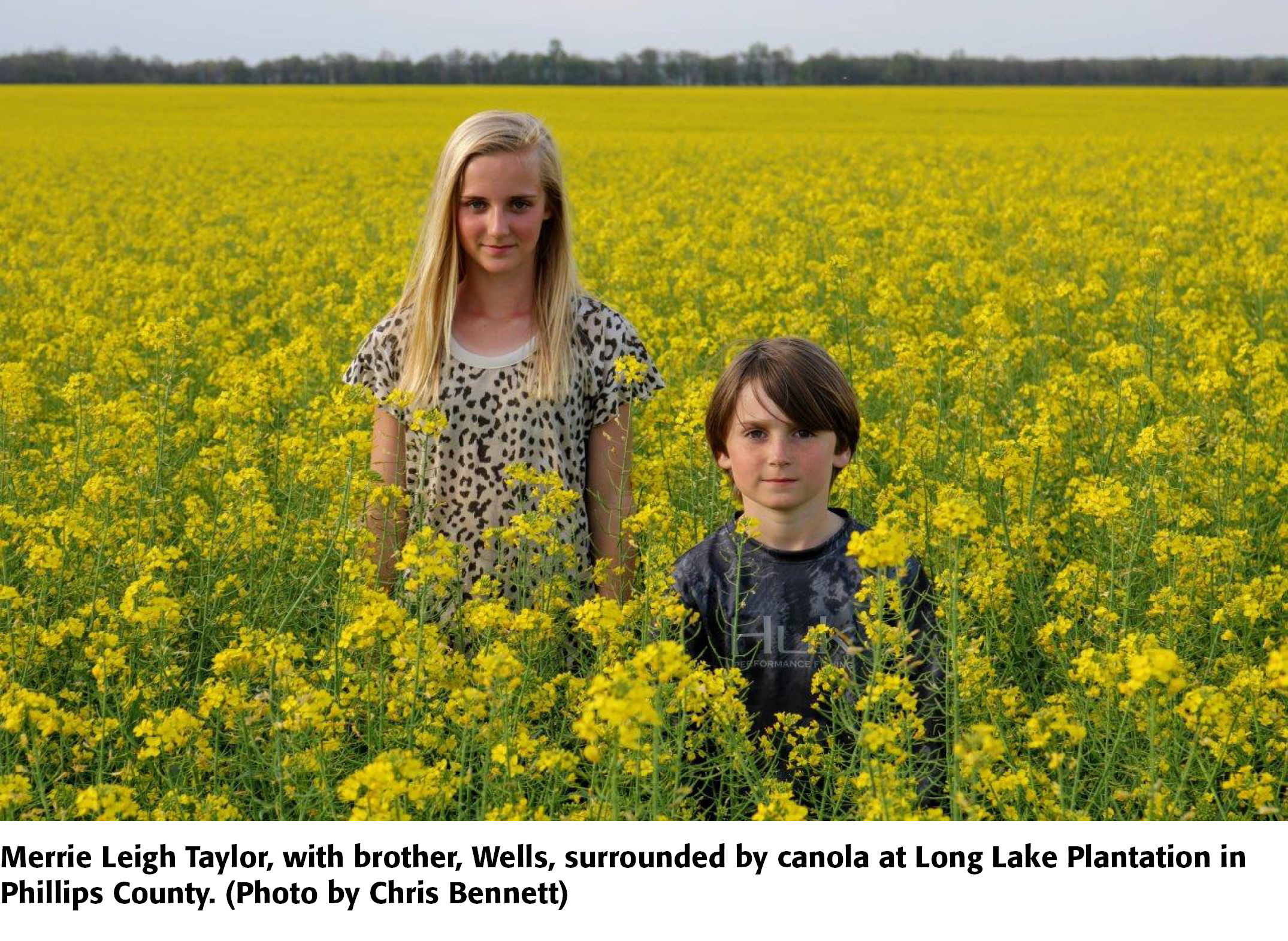 The use of non-GMO varieties in the Mid-South also has several advantages, according to Caldbeck. One, no herbicide-tolerant volunteers are left in the following crop. Two, non-GMO canola is eligible for price premiums. Three, non-GMO winter canola hybrids demonstrate significant yield advantages to GM winter canola. "Canola harvested in June generally finds a better market when stocks are a little lower because the farmers in the Northern Plains harvest in August and September," he says.
Yield Advantage?
Canola is prevalent in Canada, reaching 20-plus million acres and bolstered by heavy processing infrastructure. In the U.S., canola is centered in the Northern Plains, with approximately 2 million acres nationwide. Archer Daniels Midland (ADM) is promoting canola as a Mid-South crop possibility, and growers have 1,500 acres spread across Arkansas, Mississippi and Tennessee. The current miniscule acreage numbers hide a key advantage for farmers like Taylor: Canola may fare very well in in the South.
Caldbeck says Mid-South yields are significantly higher than the national average. "According to NASS, average yields in the Northern Plains (planted as a spring crop and fall-harvested) are just short of 1,900 lb. per acre, or 38 bu. per acre. Looking at the Mid-South and Southeast and you're talking about yield reaching 2,500 lb./50-plus bu. per acre with experienced growers achieving farm averages in the 50-70 bu. range per acre. It has a lot to do with winter-planted genetics and a longer time to develop a root system, but Southern yields are definitely higher, and canola already has a higher cash value than wheat."
Duane Dunlap, ADM regional manager-Grain Group, echoes Caldbeck's assessment: "In 2018, we saw Tennessee yields up to the low 50s, and that was a tough, cold winter and a hot April with pollination issues. We've seen field trials in Arkansas from seed companies in the low 60s and 70s. We're very excited to see what canola yields in Delta ground, and certainly hoping for 50-plus bu. per acre."
Wheat acreage has consistently dwindled over the last several years in the Mid-South, a decline noted by Dunlap. "A big part of our discussion when we decided to provide this market was the struggle of wheat prices, as well as quality issues and discounts. We know wheat acres are down about 90% since 2013 in this region, so there is big need for a substitute crop for wheat. Certainly, canola may bring a better return than wheat."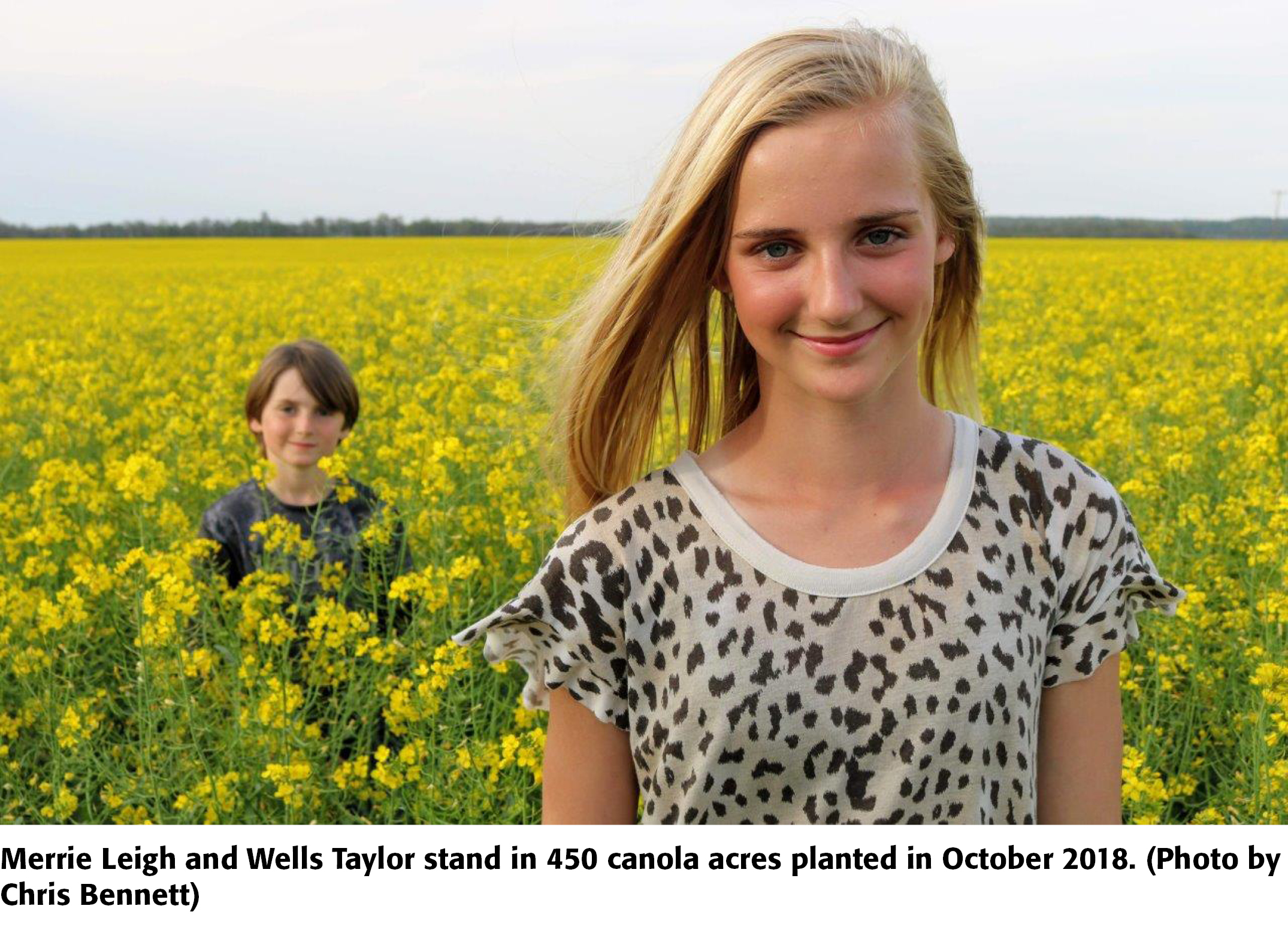 A viable canola option could play a significant role in providing options, Dunlap adds: "This is about putting another tool on the farmer's belt to make money, and it's worth exploring and providing a marketplace to see if it makes sense in rotation. Winter canola varieties can allow growers not only to get a yield that is in many cases superior to what Canadian farmers see, but they can also double-crop beans behind it."
The double-crop window for canola is slightly wider than wheat, opening the possibility for a variety of follow-up choices, Caldbeck notes. "Winter canola genetics from both Rubisco Seeds and Photosyntech seed companies offer a range of genetics that will harvest from 4 to 12 days prior to wheat, and if you're far enough south, that might mean double-cropping grain sorghum or even cotton."
Bushel Boost?
What do Mid-South soybean yields look like following canola? The question is hanging, but Caldbeck suspects a marked benefit awaits. "University of Kentucky research by Lloyd Murdock shows double-crop soybeans getting a 3-7 bu. boost after canola in a majority of years."
Further, two broadleaf crops (canola and soybeans) in a row produce a bushel boost for winter wheat, Caldbeck contends: "We've seen many times across the South where farm average wheat yields go up 20% to 25% as a result."
Dunlap cautions growers regarding canola after soybeans. "Be aware of chemical residues if coming behind beans. The wrong herbicide could bring stand issues."
In addition, he recommends a three-year rotation, and no back-to-back canola plantings. "Rotate or you can run into disease issues. A lot of guys aren't sure, but canola is an insurable crop and we've had success getting coverage in Arkansas, Mississippi and Tennessee."
"We recommend rotating to canola in every three to four years," Caldbeck echoes. "That's largely due to disease, and we don't let anything build up. Keep the rotation wise and the crop insurance people happy."
New Crop on the Block
With no infrastructure in the Mid-South, Dunlap discourages on-farm storage. ADM's canola from Arkansas, Mississippi and Tennessee is handled at the company's grain elevator on President's Island in Memphis, and placed on rail cars for processing in Canada.
Lauren Nickell, grain origination specialist with ADM, says anticipation over canola growth is building. "We're very excited about the potential for this crop in the Mid-South. We've already had multiple producers come back to this crop after last year."
"If growers are interested, please contact us and we'll provide something new and different that could make sense to a farming situation," Dunlap concludes.
For more, see:
Against All Odds: Farmer Survives Epic Ordeal
Killing Hogzilla: Hunting a Monster Wild Pig
In the Blood: Hunting Deer Antlers with a Legendary Shed Whisperer
The Living and the Dead: Black Vultures Expand, Farmers Pay Cost
Agriculture's Darkest Fraud Hidden Under Dirt and Lies
Blood And Dirt: A Farmer's 30-Year Fight With The Feds
Living the Dream: Honoring A Fallen Farmer
Pigs Don't Fly: Feral Hog Spread Is A Man-Made Mess
Who Killed the Finest Soybean Soil in the World?
Hemp Fraud Hits Farmer With Clone Scam
Seeds of Discord: Crossing the Great Cover Crop Divide