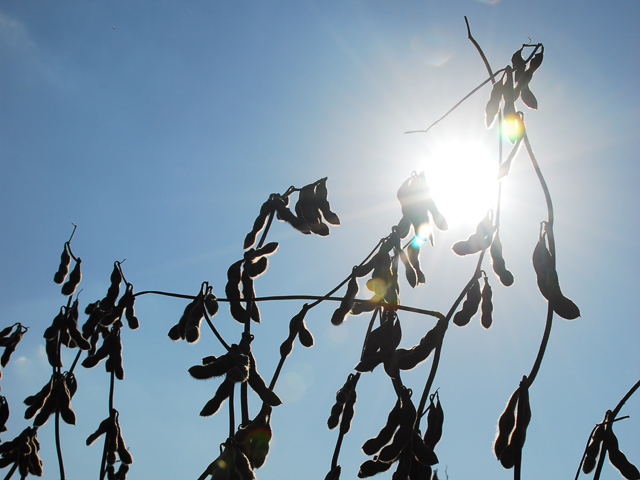 Old-crop soybeans continue their tear higher. Is demand being grossly underestimated?
The soybean market was full of surprises this week. On April 15, soybean prices jumped $0.30 after a report from the National Oilseed Processor Association. According to NOPA, U.S. processors crushed 153.84 million bushels last month. The average trade guess ahead of the report was 146.1 million bushels.
This was the largest crush for March ever reported, says Jerry Gulke, president of The Gulke Group. "It surprised for a lot of people," he says.
Currently, old-crop soybeans prices are several dollars higher than new-crop soybeans. Gulke says this inverse relationship should be giving the incentive for buyers to wait and buy cheaper beans from South America or next fall from U.S. farmers. But, that doesn't seem to be happening.
"The July contract going higher than November can last a lot longer than we think," he says. "And, it's really good for beans." The market seems to say we can use every acre of soybeans planted in the U.S., he says.
Hear Gulke's full audio analysis:

For the past several months, a lot of bad news has been thrown at the soybean market – everything from China cancelling contracts to terrible crush markets to lower feed demand due to the PEDV virus in hogs. "Yet the prices keep going up," Gulke says. "Are we grossly underestimating global demand for soybeans?"
Soybeans versus Corn
Strong soybean prices are not enticing farmers to plant more corn, Gulke says. "The market doesn't seem to be concerned about getting enough corn," he says.
With average weather, 91.7 million acres and an average national yield of 163 bu./acre, which is 5 bu. better than last year, the U.S. should produce enough corn. "We won't run out," Gulke says. "That won't mean $7 and it probably doesn't mean $4 corn either."
"I doubt you will sway a lot of guys back to corn if the corn-to-soybean price ratio stays like it is," Gulke says. "It's almost like the market is telling us don't cut back on bean acres because we need them all. But, we still have a lot of time and weather ahead of us."
 
Have a question for Jerry? Contact him at 815-721-4705 or [email protected].

For More Information  
See current market prices in AgWeb's Market Center.
---