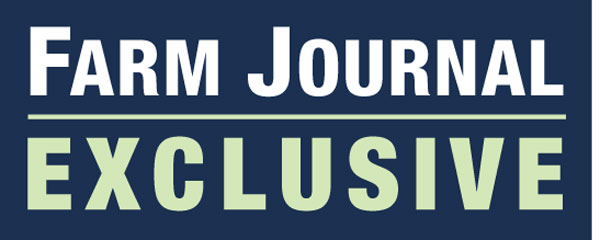 A system designed to listen and respond to plant needs
In a perfect world—with ideal growing conditions—today's seed corn  genetics can produce a whopping 500 bu. per acre. With the average corn yield in 2013 at 158 bu. per acre, the question lingers: How do we capture the other 346 bu.? 

Gregg Sauder's latest technology company, 360 Yield Center, is singularly devoted to closing the gap and capturing elusive bushels. Sauder created Encore in June 2012 and began building 360 Yield Center in August 2013. If his name sounds familiar, it's because the Tremont, Ill., farmer also started Precision Planting. That company sold to Monsanto in 2012, and while many of Precision Planting's employees are still with the company, Sauder is no longer affiliated.

None of that changes the fact that for 20 years, Sauder fought for every bushel at the top of the yield pyramid by creating planter attachments and high-tech tools. 

"Now 360 Yield Center is fighting for the bottom of the yield pyramid to maximize the potential of genetics," Sauder explains. "By understanding the relationship between nitrogen and water, we can boost yields more than 80 bu. per acre, if we're there with the right amount of each at the precise time the corn plants need it." 

The foundation of the system caters to bushels primarily controlled by the environment using three key principles: sense, decide and apply. It listens to the plant's needs, identifies actions and provides tools to respond.

The journey continues. Sauder's vision for 360 Yield Center began after he sold Precision Planting. The acquisition underpinned Monsanto's Integrated Farming System (IFS) platform, which maximizes yield through seed genetics and equipment technology.

Initially reluctant to sell the multigenerational company, Sauder says he changed his mind because Precision Planting needed IFS to reach its full potential and IFS needed the equipment technology.

The decision to sell opened doors to new opportunities. Sauder left Monsanto and returned to his family's Illinois farm in the summer of 2012. His corn crop, which got off to a great start, was soon crippled by the historic drought.  

"I began to realize I needed to create a product that controls the environment the corn grows in," Sauder says. 

The next spring was one of the wettest planting seasons in years. A frustrated Sauder pushed to get a crop in. His vision for 360 Yield Center emerged. He knew to fulfill it he needed to acquire or develop products that push water and nitrogen management to a new level.

Parts to the whole. This summer, Sauder and his team gave Farm Journal exclusive access to learn  more about the company's philosophy and plans. Just as this magazine hits mailboxes, the team is launching a suite of products designed to operate with the push of a button.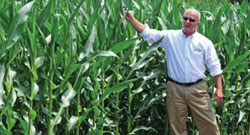 The farmer-founder of Precision Planting, Gregg Sauder, has a new company focused on helping farmers improve yields. The 360 Yield Center is a systems approach that helps farmers take control of their yields and capture the full potential of specific fields with the tailored "sense-decide-apply" management approach.

The system's current lineup of products and services include: 360 Commander, 360 SoilScan, 360 Y-Drop and 360 UnderCover. Sauder started acquiring companies in fall 2013. The 360 Commander, formerly known as Optimizer, was created by Indiana farmer, Daryl Star. Iowa engineer Rhett Schildroth and wife, Stacey, owners of Redshield Technology, sold their product to Sauder, which is now called 360 SoilScan. The final acquisition came from Dan Muff, owner of Y-Drop. The 360 Y-Drop and 360 UnderCover allow late-season nitrogen and fungicide applications. 

"Each of the products are great when they stand alone, but they become magnificent when combined in the systems approach," explains Jim Hedges, director of sales for 360 Yield Center. "The system makes it possible for farmers like myself to go for the gold and capture the yield potential of a corn crop as the season unfolds instead of just shooting for the pre-season yield goal."

In action. The 360 Commander software program monitors real-time field conditions to identify limiting factors before planting and during the growing season. In 2014, the software is being used on more than 1 million acres in 17 states. The information hub tracks and collects real-time data on soil, seed, nitrogen, weather and nutrients using public and private data.  

To enable farmers, the Commander analyzes plant needs using a seed profile and soil data. The soil data can be uploaded and modified from existing management zones or pulled from the USDA soils database. Zones can be customized with slope, fertility, organic matter, CEC or EC.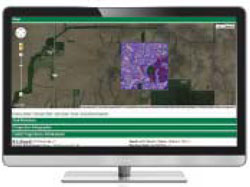 This smart terminal, the 360 Commander, provides variable-rate prescriptions for  seed, nitrogen and irrigation. It is the heart and brain of the 360 Yield Center.

Pair the Commander with 360 SoilScan, a portable real-time nitrate-sensing tool, and the software provides real-time soil data. Combined with scouting, the tools monitor plant health and communicate the crop status to the system. Alerts are sent when a field needs agronomic attention. 

"There is major math and science to this, but that is on our end, not the farmers," explains Austin Ehle, product development for 360 Yield Center. "We want it to be as simple as possible."

Future outlook and risk tolerance can be adjusted with Yield Solver, a feature of 360 Commander that monitors environmental and field changes hourly to calculate yield potential and limiting factors. Yield Solver runs every possible combination of environment, seed, nitrogen and irrigation to create variable-rate prescriptions for seed, nitrogen and sub-drip and pivot irrigation. 

After using Optimizer for two years, Brent Michael, a Mulberry, Ind., farmer, says the 360 Commander technology helps dial in seed and fertilizer rates.  

Late-season corn often needs nitrogen adjustments. Using 360 Y-Drop, nitrogen can be applied at V6 and beyond. The Y-Drop mounts to any sprayer or sidedress bar to apply liquid nitrogen at the base of the plant.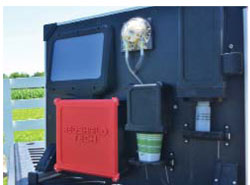 The 360 SoilScan makes it easy to determine the amount of nitrogen needed in a field. It mixes soil and deionized water in a cup, measures nitrate ions and provides soil data results in minutes. 

Lastly, 360 UnderCover allows late-season applications of fungicide and insecticide. The attachment has six multi-directional spray nozzles to target the exact location of the plant while providing inner canopy coverage. It mounts to 360 Y-Drop for efficiency. 

As 360 Yield Center unfolds, two more tools are in testing. An unmanned aerial vehicle (UAV), 360 Recon will evaluate plant stands and health to update the 360 Commander on crop status. The service is pending Federal Aviation Administration guidelines for commercial use of UAVs. The 360 WaterSolutions, a subsurface drip irrigation system, will provide moisture to plants within minutes of an alert. The company plans to roll out this product in the fall of 2015. 

Look ahead. In spring 2015, 360 Yield Center will be introduced in Maryland, New York, Ohio, Wisconsin, Michigan, Minnesota, the Dakotas, Indiana, Illinois, Iowa, Missouri, Nebraska, Kansas, Oklahoma, Texas, Louisiana and Canada. 
This summer, Sauder and his team are hosting proving ground field days open to farmers Aug. 5-7 in Morton, Ill. For more details, visit
www.360yieldcenter.com.
---
If you missed the TV coverage of Gregg Sauder and the 360 Yield Center by "AgDay" host Clinton Griffiths, you can watch it online. Here, Jim Hedges explains how the 360 Y-Drop and 360 UnderCover make late-season applications possible.