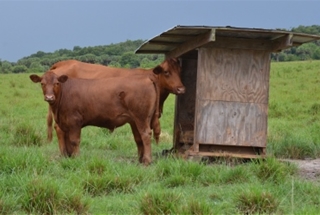 Cargill Inc. pulled out of the chase to acquire Nutreco NV, leaving the target's largest shareholder the last man standing with a bid valuing the Dutch animal-feed supplier at 2.99 billion euros ($3.7 billion).
An improved offer from investment company SHV Holdings NV equal to 44.50 euros a share was recommended by Nutreco last month after rejecting an initial 43.20 euros a share proposal from Cargill and private equity firm Permira Advisers LLP.
Takeovers and mergers in the animal nutrition sector are being driven by rising global demand for protein as farmers contend with limited resources of land and water. Deals worth $35 billion have been completed in agriculture in the past two years, according to data compiled by Bloomberg.
"We should expect further consolidation in the global agricultural sector," Belinda Moore, a Brisbane-based analyst at Morgans Ltd. said today by phone. "It's the story of growing demand for protein, particularly meat."
Nutreco spokesman Mark Woldberg didn't immediately respond to an e-mail and SMS message requesting comment sent outside normal office hours.
SHV Holdings is the largest holder of Nutreco, according to data compiled by Bloomberg. Nutreco, with a market value of 3.27 billion euros, attracted takeover interest after the failed disposal in June of its compound-feed and meat business in Spain and Portugal. It closed yesterday at 46.50 euros.
Cargill, the largest closely held U.S. company, has proposed or completed acquisitions worth $1 billion in the past two years, including a $440 million deal for Archer-Daniels-Midland Co.'s chocolate unit, according to data compiled by Bloomberg.
"Cargill considered all relevant facts, including the attractiveness of acquiring Nutreco relative to alternative potential investments," the Minneapolis-based company said yesterday in a statement. "Cargill remains committed to building further its global animal nutrition platform through both organic investment and acquisitions."
The company said this month it was considering making a solo bid for Nutreco, the maker of Skretting fish feed.
SHV has obtained regulatory clearance from the European Commission and Turkish competition authorities in connection with its offer, it said Dec. 20. Nutreco said last month it had rejected Cargill's plan to pay at least 43.20 euros a share because the U.S. company planned to split up the feed producer with private-equity company Permira.
Closely held SHV, founded in 1896 by eight Dutch coal wholesalers, owns assets in oil exploration and transport as well as the Makro cash and carry wholesale chain. Revenue last year amounted to 17.6 billion euros, and the net cash position was 2.6 billion euros, according to its website.