Case IH leaders say it's been something they've always done, but now they are putting a name to it—agronomic design.
"We've been delivering value to our customers in three ways: Efficient Power, AFS, and Agronomic Design," says Bill Preller, senior director specialty business, Case IH North America. "That value is part of our vision and promise to the professional producers to serve, which includes innovative product, knowledgeable people, and a first class customer experience."
The aspects of agronomic design that Case IH looks to address include:
Crop residue management
Soil tilth
Seedbed conditions
Plant food availability
Crop protection
Harvest quality
Timeliness
As an example, Case IH unveiled at Ag Connect the new Patriot 2240 sprayer. A class 2 sprayer, this smaller sized sprayer features the near-equal weight distribution Patriot sprayers are known for to help get customers in the field faster. The Patriot 2240 is designed to be nimble and feature more maneuverability in tight fields. The machine is outfitted with the exclusive AIM Command spray technology to deliver even, consistent coverage, and better drift control.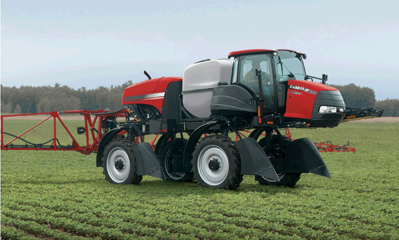 Other examples of how Case IH is in the field with Agronomic Design are the recently introduced Steiger RowTrac and Precision Disk Drill.
Steiger Rowtrac features a four-track design that adapts Quadtrac advantages for row-crop applications. It distributes loads evenly across the length of each track, even when heavy loads put force on rear tracks. It minimizes compaction with more flotation, turns tight without berming and pulls harder with less rutting, all to maintain soil tilth and improve seedbed conditions.
The Precision Disk drill is an all-new single disk drill designed to easily cut through residue and opens a uniform seed trench across varying soil and tillage conditions. It also accurately delivers the seed and closes and seals the trench for improved germination and plant-stand establishment.
For more www.CaseIH.com