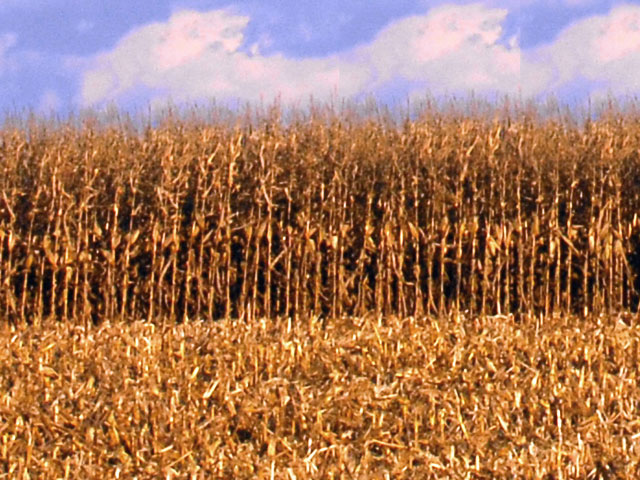 The cash rent line on your budget likely has been a point of relief for the past few years. As margins tightened, many landowners agreed to lower cash rents. For 2018, that trend is expected to continue—but don't expect a big drop.
Landowners are still willing to negotiate their rental agreements, but the focus on dropping prices might ease, according to Pro Farmer's 2017 LandOwner Cash Rent and Land Values Survey.
"Some 53% of survey respondents say they expect cash rents will decline in 2018," says Mike Walsten, consultant and columnist for LandOwner, part of the Farm Journal family. "While that is a majority, it is down from the 74% in the 2016 survey and 73% in our 2015 survey. Our 2014 survey found 67% anticipated a decline in cash rents."
The percentage of survey respondents expecting cash rents to remain unchanged in 2018 rose to 45%. That's up from 24% in the 2016 survey and 21% in the 2015 survey.
"That boost in the percentage expecting no change in rates could be an early indication a bottom in cash rental rates might be nearing," Walsten says. "But we do not expect cash rents to bottom until 2019 or 2020."
Although it might seem lower commodity prices should push cash rents down strongly, that hasn't been the case in most areas, says Eric Wilkinson, managing broker for Hertz Farm Management in Kankakee, Ill.
"Competition for more land and the good production in most areas from the 2017 crop has kept cash rents mostly stable," he says. "Land net profits and competition from neighboring farmers are the biggest factors affecting cash rents. Neighboring farmers in most areas are still competing to grow and acquire more land, so there hasn't been much of a decline in cash rents."
2018 Outlook. For this year, Walsten expects cash rental rates to slide 3% to 5%. That's compared with 5% to 10% yearly declines seen in previous years.
These drops are helpful, but they likely won't be enough for farmers to be in the black on cash-rented ground, says Gary Schnitkey, ag economist at the University of Illinois.
In Illinois, state-average cash rents peaked in 2014 at $234, according to USDA. In 2017, the average was $218, a drop of nearly 7%. Statewide average cash rents will likely drop $5 to $10 per acre in 2018, Schnitkey says. This is because Illinois farmers face reduced net farm incomes and continued negative returns on cash-rented farmland.
"Reductions of this size are not large enough to cause cash-rented farmland to be profitable," he says. "However, declines in cash rents resulting in profitability are projected to be long and protracted. As long as corn prices remain below $4 per bushel, there will be downward pressures on cash rents."  –Sara Schafer
Crystal Ball for Land Values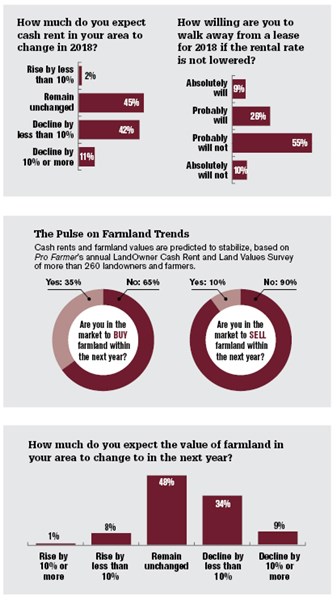 Farmland values seemed to defy logic in 2017. Numerous factors, such as a struggling farm economy and low supply of land for sale, indicated prices would creep lower. Yet prices held steady.
Don't expect the same in 2018,  says Steve Bruere, president of Peoples Company in Clive, Iowa.
"Farmers buy 70% to 80% of all farmland," Bruere says. "But when margins are tighter, bankers get nervous. If farmers' margins get tighter, they will become less dominant buyers, and other buyers won't pay as high of prices."
For the next few months, Jim Farrell, president of Farmers National Company in Omaha, Neb.,  expects land values to remain stable. "But longer term, I feel that land values have not hit the bottom yet. We will still see more down movement in certain markets."
Increasing interest rates and an uptick in farmland for sale could send land values lower.
"The slow farm economy could push more land on the market," Farrell says. "Any increase in land on the market will likely pressure values at this point."