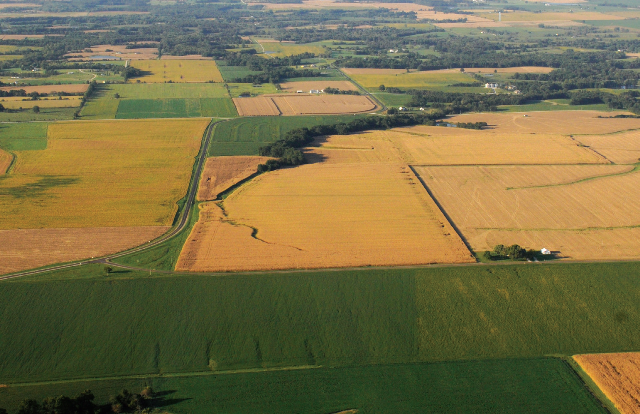 The good news – according to USDA NASS data, cropland cash rents retreated 6% nationwide in 2016 compared to 2015. That's the first time national cash rent rates have declined since 2007.
The not-so-good news? Rental rates were uneven – down by as much as 6% to 7% in some states, but increasing by 5% or more in other states. A total of 13 states saw average cash rent go up for 2016. The states that saw increased cash rent rates include Idaho, Utah, Arizona, New Mexico, Wisconsin, Michigan, Ohio, West Virginia, Virginia, Delaware, New Jersey, South Carolina and Mississippi.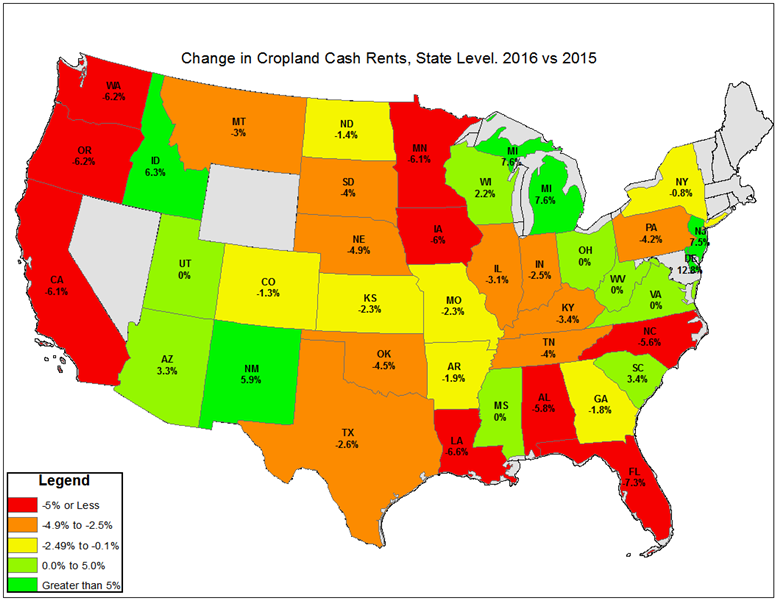 "Looking ahead, it will be important for producers and observers to keep in mind that the impacts of lower net farm income and the ag economy slowdown will vary across the country," according to Purdue ag economist David Widmar, writing on the Agricultural Economic Insights blog. "While the national trends are important, it's critical to also keep an eye on local conditions."
Changes in pasture rental rates also vary quite significantly, Widmar says.
In Nebraska and South Dakota, pasture rental rates were 16% and 11% lower, respectively," he notes. "Those declines were much more severe than the 5% to 6% declines observed in the neighboring Great Plain states of North Dakota, Kansas, and Missouri. In the Eastern Corn Belt – Illinois, Iowa, Minnesota, Wisconsin – cash rental rates were higher. Pasture rental rates in Oklahoma, Arkansas, Louisiana, and Florida were sharply higher in 2016."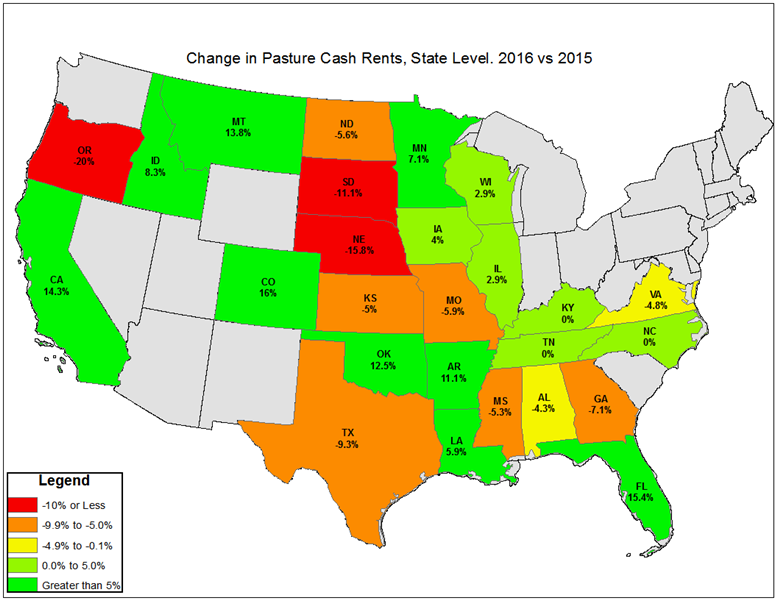 A recent Farm Journal Twitter poll revealed 57% of farmers are willing to walk away on any ground that can't be renegotiated. Even more telling is ProFarmer's annual LandOwner survey, showing farmers say if prices don't come down, they may walk away, too.
"According to our survey, we find that 44% of our members and subscribers are willing to walk away from a cash lease if that lease is not lowered going into 2017," says Mike Walsten, Editor of ProFarmer LandOwner Newsletter.