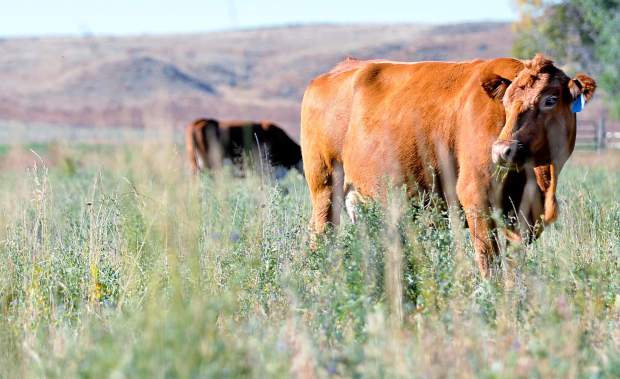 Budding plant growth across northeastern Colorado's Pawnee National Grassland serves as visual evidence of recovery and relief brought by greater rainfall this year.
Patches of dry dirt, devastated by extended drought, are slowly giving way to the native grasses that define this protected zone.
For cattle producers, growth in the grasslands comes with a much greater implication: the ability to begin restoring herd counts, which were dragged down by the land's inability to continue supporting extensive grazing through dry years.
Although herd numbers remain low, healthier rangelands provide the first step necessary to take on expansion, said Bill Hammerich, CEO of the Colorado Livestock Association.
"From here north into the heart of cattle country, pasture conditions are as good as they have been in recent years," he said. "Pricing structure and improved pasture conditions are a double whammy when it comes to incentives to grow the herd."
The drought's toll continues to show in Colorado herd numbers, which are down 4 percent year-over-year at 800,000 cattle and calves on feed in lots that have more than 1,000 head, the National Agricultural Statistics Service (NASS) reported Sept. 1.
Although it is too early to predict how and when herd counts may recover, analysis of rangelands and pasture areas remains consistently positive.
As of Sept. 28, NASS rated 8 percent of Colorado pastures excellent, compared with just 1 percent at the same time last year, beating the five-year average of 5 percent. An additional 39 percent were rated good, up from 22 percent last year and again beating the five-year average of 23 percent.
Six percent remained in very poor condition, improving from the 20 percent rating in 2013.
In a county where more than half of farmland goes to pasture areas, land quality plays a vital role in Weld's agriculture industry.
An important part comes from rangelands with native grasses, such as the Pawnee National Grassland under U.S. Forest Service management. In contrast to irrigated pastures, dryland ranches depend on precipitation to survive.
Once devastated by drought, dryland grazing areas can take years to recover their quality and utility.
For the time being, Weld rangelands appear to be moving in the right direction, said Raymond Mowery of the National Resources Conservation Service office in Greeley.
"We've been recovering on primarily native range since the 2012 drought," Mowery said. "Some of that takes a long time to recover once you lose them. We have seen relatively favorable conditions this year for plant production.
"Last year, some recovered, but it takes a lot to get some back to normal or average conditions after a drought situation like 2012. . This year, if you drive out there it looks good. If you look down, there is still bare ground, which should fill in some as plants recover."
Including the rangeland area in the Pawnee National Grassland, approximately 8 million acres of grazing area in Colorado falls under the management of the forest service.
It serves around 600 ranchers under the term grazing permit system, said Tom McClure, the forest service's Rocky Mountain region rangeland program manager.
"The grazing permits typically provide summer forage for ranches in order to round out their yearly forage needed to sustain the ranch. Many of these ranches have been in the same family for over a hundred years, and provide open space, wildlife habitat and a buffer between developed private land and the national forest system lands," McClure said.
"All allotments are under improved management to provide for long-term sustainable production of forage, soil productivity, wildlife forage/habitat, and an array of other values and uses. A key part of our management relies upon maintaining short-duration grazing periods."
Control of livestock distribution is a vital step in managing the lands and ensuring their long-term vitality.
Don Hijar, owner of Greeley's Pawnee Buttes Seed Inc., explained the importance of practicing careful land management. Although his company sells hundreds of grass seed varieties, he said varietal selection is typically the final step of many in maintaining pastures and rangelands.
"The greater opportunity to improve the production of the pasture is through managing the pasture properly. That will do way more than trying to find a magic grass that is going to produce a bunch," Hijar said.
While ranchers should seek out cold- and drought-tolerant varieties to fit the Colorado climate, Hijar said no seed could save land from poor management.
"If you have a grass that is drought and cold tolerant, but you overgraze it, that shows itself way more in a drought year than it does in a good year. To put it a different way, it is much easier to kill a grass from overgrazing during a drought than during a good year," he said.
"The real improvements come from planting grass that is adaptable to this climate and then managing them appropriately and properly. That is where you are going to make the biggest improvement in production, which then converts into more pounds of beef per acre, which then converts into bigger return on investment."
These management techniques include controlling the number of cattle allowed to graze a certain area and rotating livestock to new plots of land to avoid destruction of root structures. On dryland farms, he said ranchers will typically graze each plot just once a year to allow full recovery.
For plots in need of renovation, the necessary improvement steps will depend on each individual assessment.
"Sometimes somebody thinks the pasture isn't good, and really it's not that bad. Their (low) production comes from not watering it correctly or that they are not fertilizing it often enough. Those two things are the biggest factors that will improve the production of their existing pasture without spending a lot of money," Hijar said.
"But there are certain pastures that are in such poor shape that the best thing to do is plow them up and then grow an annual crop for a couple of years, like oats or corn, and then go back to plant a better grass species."
For ranges and pastures that have been overcome by weeds, Hijar said planting an annual crop can often provide the best option to start anew and eliminate invasive species.