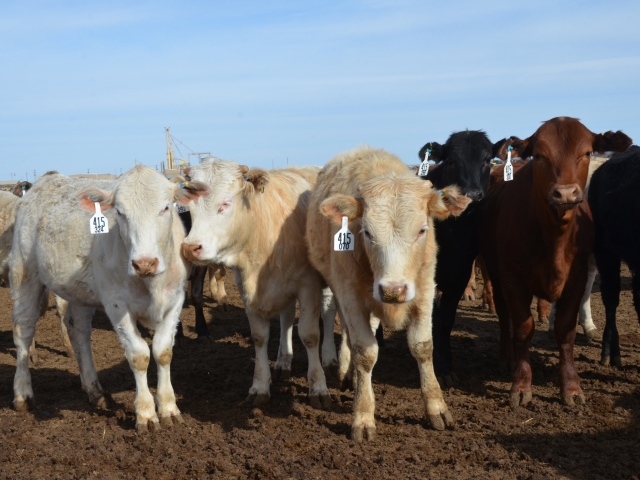 Cattle futures markets were sharply lower this morning after the World Health Organization released a report linking cancer to the consumption of red meat and processed red meats. Based on what livestock experts assert was limited evidence, the International Agency for Research on Cancer (IARC), the WHO's cancer agency, concluded that red meat is probably carcinogenic to humans.
The IARC defined red meat as beef, veal, pork, lamb, mutton, horse and goat.
The news quickly hit the livestock markets.
At 10 a.m. Monday, all live cattle and feeder cattle contracts traded at the Chicago Mercantile Exchange were lower. The nearby October live cattle contract was down $1.57 at $139.45, and the December contract was $1.95 lower at $141.45. The decline in feeder cattle futures was similar, though most were down more than $2 per cwt.
These movements occurred against the background of USDA's monthly cattle-on-feed report, which was released last Friday. It was believed to be market-neutral for Monday's open. Cattle on feed as of Oct. 1 were 2% higher than last year, but placements during September were 4% below year-ago numbers. Analysts said the report suggested little change to market fundamentals and expected it to have little impact on Monday's futures market.
But the IARC report provided the market an early-week push lower, though analysts say the impact is likely to fade quickly.
"I can't imagine (the IARC) report will provide a long-term shock to the markets," said Steve Meyer, president of Paragon Economics.
Len Steiner of The Daily Livestock Report said the IARC report had some effect on today's markets, but only in a limited way. "It shouldn't have been a shock," Steiner said. "We've been talking about a red meat-cancer link for 25 years, so this isn't exactly news."
Others within the meat industries were quick to condemn the IARC report as "not supported by science." Specifically, the meat industries criticized the IARC process because after seven days of deliberation in Lyon, France, the IARC was unable to reach a consensus agreement from a group of 22 experts in the field of cancer research. As a result, the IARC settled for a "majority" agreement instead.
The report was strongly criticized by the North American Meat Institute (NAMI), which said the IARC's vote to classify red meat and processed red meats as cancer "hazards" defies both common sense and numerous studies showing no correlation between meat and cancer.
"It was clear sitting in the IARC meeting that many of the panelists were aiming for a specific result despite old, weak, inconsistent, self-reported intake data," Betsy Booren, NAMI's vice president of scientific affairs, told Meatingplace.com. "They tortured the data to ensure a specific outcome."
"Cancer is a complex disease that even the best and brightest minds don't fully understand," said Shalene McNeill, Ph.D., R.D., executive director, human nutrition research at the National Cattlemen's Beef Association. "Billions of dollars have been spent on studies all over the world, and no single food has ever been proven to cause or cure cancer. The opinion by the IARC committee to list red meat as a probable carcinogen does not change that fact. The available scientific evidence simply does not support a causal relationship between red or processed meat and any type of cancer."
She provided additional perspective in a statement released by the Cattlemen's Beef board. "As a registered dietitian and mother, my advice hasn't changed," McNeill said. "To improve all aspects of your health, eat a balanced diet, which includes lean meats like beef, maintain a healthy weight, be physically active and, please don't smoke."