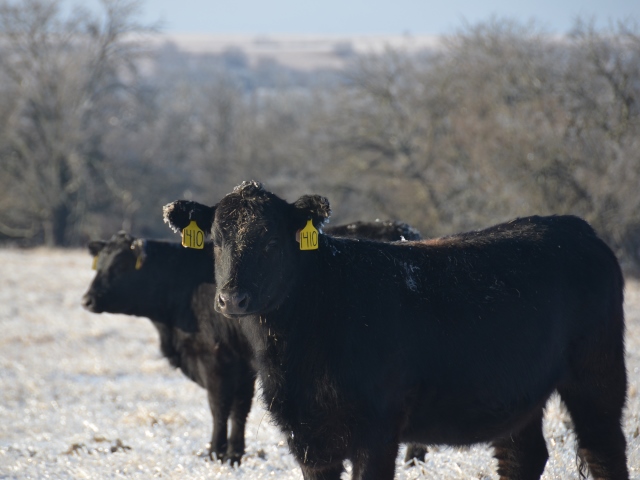 The stock market is off to a dismal start in 2016. Hopefully, this isn't a sign of a weakening economy.
By: Ron Plain and Scott Brown, University of Missouri Extension

Export demand for U.S. beef has been below the year ago level each month since April. Domestic beef demand was down in November for the first time this year.
Fed cattle prices were mixed this week. Through Thursday, the 5-area average price for slaughter steers sold on a live weight basis was $133.52/cwt, up $1.68 from last week's average, but down $29.62 from a year ago. The 5 area average dressed price this week for steers was $209.57/cwt, down 45 cents for the week and down $53.93 compared to the same week last year.
This morning the choice boxed beef cutout value was $232.65/cwt, up $1.42 from the previous Friday, but down $28.48 from a year ago. The select carcass cutout was $227.63/cwt, up $3.04 from last week.
Beef packer margins were terrible in 2011-2014. This led to the closing of several large packing plants. It looks like we are at the end of these plant closings. Beef packer margins have rebounded in recent months.
Highly pathogenic avian influenza has been found in an Indiana turkey flock. It is a different strain than the AI that caused problems last winter.
Based on preliminary data, the average dressed weight of steers slaughtered in 2015 was 892.1 pounds. That is more than 19 pounds heavier than last year and is record high for the fourth consecutive year. What happens with slaughter weights will have an impact on just how big the increase in 2016 beef production will be.
This week's cattle slaughter totaled 568,000 head, up 3.3% from last week and up 3.3% from a year ago.
The average steer dressed weight for the week ending on January 2 was 904 pounds, down 2 pounds from the week before, but up 7 pounds from a year ago. This was the 81st consecutive week with weights above the year-ago level.
Feeder cattle prices at the Oklahoma City Stockyards this week were $5 to $10 lower than last week. Calf prices were $2 to $4 higher. Prices for medium and large frame #1 steers by weight group were: 400-450# $224-$231, 450-500# $210-$226, 500-550# $186-$206, 550-600# $182-$199, 600-650# $160-$189.25, 650-700# $159.50-$169, 700-750# $153.50-$168.25, 750-800# $154-$164, 800-900# $141.50-$157 and 900-1000# $145-$156/cwt.
Cattle futures were lower this week. The February live cattle futures contract settled at $127.55/cwt today, down $5.33 for the week. April fed cattle settled at $128.50/cwt, down $5.32 from the previous week. The June contract ended the week at $119.75/cwt, off $4.53 from the previous Friday.
January feeder cattle ended the week at $154.30/cwt, down $5.13 from a week earlier. March futures lost $7.05 this week to close at $150.27/cwt. The April contract settled at $150.85/cwt.