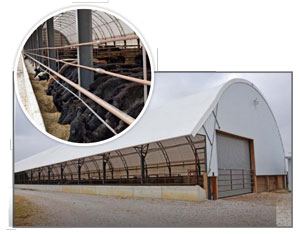 Eight years of raising cattle in controlled environments suggests an economical way to calve and feed cattle
With higher cattle prices, many farmers are looking to expand or start their herds. But finding enough pastureland to support additional head, at a reasonable price, is certainly a challenge. 

This was one reason George Wassmann and his sons, Danny and Dustin, of Boonville, Mo., decided to consider housing cattle under roof. Seeing an opportunity in his area to background more cattle, the Wassmanns built a 44'x320' Hoop Beef Choice Barn from Hoop Beef System, Vermillion, S.D. 

"It's a challenge to find pasture to continue to grow cattle herds. If land will grow corn, beans or whitetail bucks, its hard to afford to run cows on it," says Brent Bryant, owner, Hoop Beef System. 
The main advantage to a controlled environment facility is animal comfort. Bryant offers nine years of research putting all classes of cattle under roof. "This is a very sustainable system," he says. "For calving, we can manage 100-plus cows in 20-cow groups. The cow gets what she needs every day, and she's not fighting through a three-day snow storm to reach water or feed." 

On average, a cow-calf pair is allowed about 2' of bunk space. A staff nutritionist works with customers to monitor the cattle's lower energy requirements. 

"It's key to make sure we aren't overfeeding or underfeeding those cows," Bryant says. "And conception rates are very good because we are keeping stress levels low."

There is great flexibility in how producers can use these types of facilities,  he adds. "It's really about taking stock of the resources in your operation and maximizing them to reach your goal." 
Central to the success of cattle in a controlled environment is a uniform cow and calf. 

"We have been working closely with ABS Global to develop smaller frame, maternal heifers and use a terminal AI bull for feed efficiency, growth, rate of gain on the calves," Bryant says. "We've developed more than 3,000 head of these bred heifers, start to finish."

Customers who purchase the Hoop Beef System heifers can sell the calf back for finishing at one of the company's seven barns at Grand Meadow Feeders in northwest Iowa. 

Mature cow size is a key factor in the economics. "We wanted a final mature weight at 1,200 lb. or less," he adds. "As we look at our cost of maintaining a 1,600-lb. cow versus a 1,200-lb. cow, not having to maintain that 400 lb. every year offers significant savings in feed cost and she still produces a great calf."

There are significant advantages for finishers as well. "If you compared an animal under roof versus an outside lot, you're looking about a 12% to 15% improvement in feed efficiency and rate of gain," he says. 

On average, calves go to market 30 to 45 days earlier. "For us, the opportunity to feed a consistent animal with great genetics that is going to perform the same way every time is a great opportunity in the cattle business. We just want to take weather out of the equation."