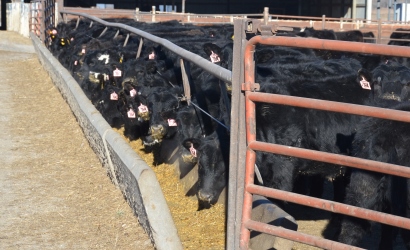 Cattle prices have started to moderate after reaching unexplained record highs in the first four months of the year, says Purdue Extension agricultural economist Chris Hurt.
He believes that the highest prices of the year are now likely in the past.
In the first quarter of 2014, Nebraska steers sold at an average price of $147 per live hundredweight - more than $20 higher than the previous first-quarter record price. Nationally, finished cattle prices were up 17 percent during the first quarter. With production only down 4 percent, the hike has been somewhat unexplained.
"It was not so surprising to have record-high cattle prices, but the real surprise was the lofty heights of those new records," Hurt said.
While there are a few factors that could have played into higher prices, Hurt said none of them seem to have been big enough to force prices to the levels they reached.
Some of those include overall low meat and poultry supplies, reduced beef production, low broiler egg hatchability and expected reduction in pork availability from the porcine epidemic diarrhea virus.
"PEDv in hogs may have been the real kicker, primarily because the pork market appears to have sharply overshot prices due to the uncertainty of the actual death loss from the disease," Hurt said. "Much like pork, we are left with an incomplete understanding of why cattle prices were so high, especially in March and April.
"Like in the pork sector, this may mean that cattle prices were caught up in the fear of very short meat and poultry supplies and may have become overpriced."
The high cattle prices translated to higher retail beef prices for consumers. The per-pound retail beef price average hit a record $5.55 in the first quarter of 2014 and is expected to be $5.67 for all of 2014. That's a 7 percent increase over the 2013 average of $5.29 per pound.
Live cattle prices have started to come down a bit, however, and Hurt said the moderation should continue. Finished cattle prices are expected to move to the mid- to low-$140s per live hundredweight in May and June, range between $135 and $139 in the third quarter, then bounce back to the low- to mid- $140s for the last quarter.
The average price per live hundredweight last year of $126 is expected to be near $142 for 2014.
Higher cattle prices could ultimately lead producers to consider growing their operations, Hurt said.
"Unexplained high prices in the first four months of 2014 have added new excitement for cattle producers as they see strong profitability potential for the first time in years," he said. "This means that the conditions have become positive for some beef cow producers to move toward expansion."
Reduced female slaughter and fewer heifers placed in feedlots suggest expansion might have already started. Heifers slaughtered were down 7 percent in the first quarter of 2014, while cow slaughter numbers were down 8 percent.
"The reduced female slaughter alone accounted for 2 percent fewer animals in the total slaughter mix," Hurt said.
According to the U.S. Department of Agriculture's most recent quarterly Cattle on Feed Report, the number of heifers in feedlots was down 6 percent as of April 1, while the number of steers in feedlots was up 3 percent.
But a growing national herd won't offer immediate relief to consumers worried about retail beef prices, Hurt said.
"The expansion of the beef herd is just beginning and will likely extend for multiple years," he said. "This means small supplies and strong prices of beef in 2015 and 2016."
Hurt's full report "How did cattle prices get so high?" can be downloaded in text or podcast format from the University of Illinois Farmdoc website.

Source: Purdue University