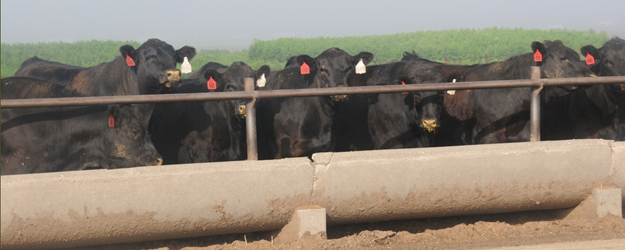 Packers came into the week bidding aggressively and the result was another week of record-high prices. Feedyards sold the bulk of cattle $2 to $3 per cwt. higher at $142 to $144.50, with the highest prices in the North. Dressed trades in Nebraska were $4 to $7 per cwt. higher $227 to $229 per cwt.
Click here for Pro Farmer cattle market analysis.

The market was driven by sharply higher boxed beef prices. Retailers need beef and they were forced to pay up to restock their inventories. Choice boxed beef prices were $231.75 per cwt. on Friday, with Select boxed beef at $228.95. The Choice-Select spread was $2.80 per cwt.

Feeder cattle prices were steady to $2 per cwt. higher, with calves $2 to $10 per cwt. higher. Demand was called strong for all classes of replacement cattle due to higher fed cattle prices and profitability in the feedlot sector.

"The feeder cattle market balloon continues to drift farther out of sight and there has yet to be any signs that it may pop or even start to lose altitude," says USDA Market News reporter Corbitt Wall. "Many localized markets were quoted much higher than this week's nationwide trend, but most of these locations were catching-up to last week's gains after weather related delays."

Wall says the best demand was shown for stocker cattle, "partly to turn-out on wheat or stockpiled winter grass pasture, but mostly early purchases by spring grazers looking to obtain possession and at least lock-in their starting price before things get any higher."

Slaughter cows saw bids $1 to $3 per cwt. higher as supplies are tight. USDA's cutter cow carcass cut-out value Friday morning was $174.25, up $1.96 from last Friday.