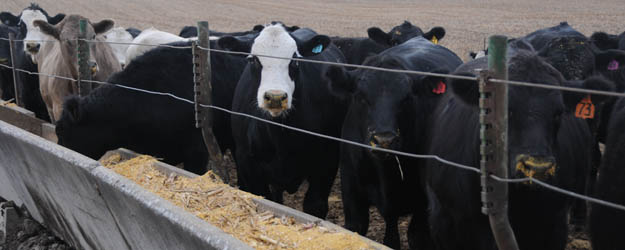 Record prices anticipated in 2012 with analysts expecting the cattle cycle to post its high in 2013.
Most cattle producers when asked about the current cattle market are optimistic. With record high prices anyone would be, especially with anticipation that those prices are expected to continue to rise for all classes of cattle. So how long will cattle prices continue rising?
The analysts at Pro Farmer expect the cattle cycle to post its high in 2013 (see chart below). "That should provide a heck of a hedging opportunity when it happens," says Julianne Johnston, Senior Market Analyst at Pro Farmer. "In the meantime, drought in the Plains, still-high feed costs and high cash prices give producers little to no encouragement to hold heifers back. Simply put, it will take rain in the Plains to encourage heifer retention, which will propel the market into its 2013 cycle high."
The good news is that those strong feeder prices should continue, but expect the typical seasonal dips. David Anderson, Texas AgriLife Extension livestock economist, projects target prices for 600-lb. steers in 2012:
First quarter       $131-138/cwt.
Second quarter $136-144/cwt.
Third quarter     $137-147/cwt.
Fourth quarter  $133-144/cwt.
But those higher feeder and fed prices translate into higher beef prices for consumers, which may cause consumers to balk at the meat case.
For the beef industry, the lower beef supply is due to fewer cows. When the factory shrinks, so does production. And even though improved genetics mean that it takes fewer animals to produce the same amount of beef as say 10 years ago, Anderson says that for 2012, beef production is predicted to be down 4%.
The extreme drought in the Southern Plains has been a major hindrance to any expansion plans. Texas lost approximately 600,000 head and Oklahoma lost approximately 250,000 head due to the extreme drought. That's a 12% decrease, the second largest decline in history, according to economist at Texas Agrilife and Oklahoma State University.
That has prevented some cow-calf and stocker operators from getting too excited about the current market, due to the threat of continued drought in the Southern Plains and that it could potentially spread north.
Fred Gesser, Planalytics senior global agricultural meteorologist, says the signals show the U.S. will experience back-to-back La Niña weather patterns. But, he says, not all La Niñas are the same.
Some segments of the beef industry will struggle. For cattle feeders the challenge of reduced numbers means fewer animals to fill pens and tighter to negative margins to feed animals out, points out Randy Blach, executive vice president of Cattle Fax.   
Interestingly though, some are already finding innovative ways to use the pen space, for instance, growing dairy replacement heifers, beef replacement heifers or even serving as a place for cows to be fed until pastures return.
The biggest hindrance for feedyards is the rising input costs from higher feeder cattle prices cattle to higher feed prices. While corn prices have declined somewhat, they are still expected to be strong in 2012, however, there will be buying opportunities.
"USDA's trend on its corn price projection has been decidedly lower in recent months," says Brian Grete, Pro Farmer senior market analyst. The December USDA supply/demand report projected an average cash price of $5.90 to $6.90 for 2011-12.
"We are near the middle to lower end of that range on our outlook. Ending stocks are still projected to be tight, which opens the door for a strong price recovery. But with USDA continuing to cut its usage projections and given macro-economic headwinds, it's going to hard to generate sustained buying interest," says Grete. "If there is a strong price rally, it would likely come in late spring or summer – depending on how the growing season progresses. The current drop in prices is providing end-users, including livestock producers, an opportunity to cover needs at much cheaper prices than expected this summer."
Watch your mailbox to read more in the January issue of Farm Journal.
..........................................
Editor's Note: Here at AgWeb.com, we tried to identify what stories in 2011 will continue be top of mind in 2012. You'll see one of these stories each week day until Jan. 3. Send any thoughts or comments on the stories to
editors@agweb.com
.  
Here are the other top stories:
---