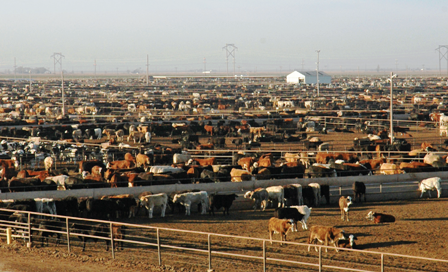 Cattle producers anticipate 10-year cycle high, but the odds hinge on Mother Nature's cooperation
This year cattle prices should reach the peak of the historical 10-year cycle. Normally, this would be cause for celebration, but there are still some hurdles to jump, especially for feeders.
"The 10-year cycle price high is due in the year ahead, which corresponds with a cycle low in the breeding herd and beef production," says Pro Farmer editor Chip Flory. "But the weather is clearly set to throw the cycle into question, and the cattle market for 2013 is as much a weather market as the corn market was in 2012.
"If we get the pastures back in the Plains, we should see some cow–calf producers save back heifers to rebuild the cowherd. That removes some females from the slaughter mix and drives  beef production down, which results in one final spike to the upside in prices."
Until forage conditions improve, the question of herd rebuilding is a moot one, says Oklahoma State University livestock economist Derrell Peel. He expects that the next USDA cattle inventory report, released later this month, could see another 400,000- to 500,000-head decrease in the beef cowherd, spread across several states.
"I suspect this represents extra heavy culling of the cowherd and fewer heifers entering herds  rather than the deep herd culling or herd dispersals that occurred in 2011," Peel says. "Nevertheless, this is herd capacity that can return rather quickly with improved forage conditions."
With a limited number of replacements, producers can expect female breeding stock prices to climb. The good news for cow–calf producers is that calf prices are expected to reach record levels as well.
"We've seen record bred heifer prices at Show-Me-Select sales in Missouri this year and at seedstock production sales all fall," says Ben Eggers, Angus breeder and manager of Sydenstricker Genetics in Mexico, Mo.
"Bull prices have been stronger in areas that had a bit more rain, but in general, bull prices are up. Cow–calf producers have optimism—at these prices, a bull that will increase your pounds of marketable product is truly worth more," he says.
"The awareness of trichomoniasis has also been a boost to the value of seedstock breeding bulls," Eggers adds. "Producers need reputable bulls in good reproductive health to protect their investments in the herd."
While bulls were in demand at Sydenstricker Genetics' record-setting fall sale, female prices, especially for bred heifers and donor-type females, were also up significantly. "Embryo transfer hasn't increased in price compared with other inputs, yet the technology and outcomes have only gotten better since it was developed," Eggers says. "We've seen that producers will take the opportunity, when they have extra cash flow, to invest in better genetics to help push their herd forward."
In terms of fed cattle price, two years ago analysts were talking about a 2013 high around $125, but that estimate was bumped to $135 after the $125 level was hit in 2012. "Now, we can't rule out a fat cattle bid touching $145 in 2013—if the weather cooperates and we get the pastures back," Flory says. "If we don't get the pastures back, the cycle high will be pushed back to 2014 or whenever it finally decides to rain."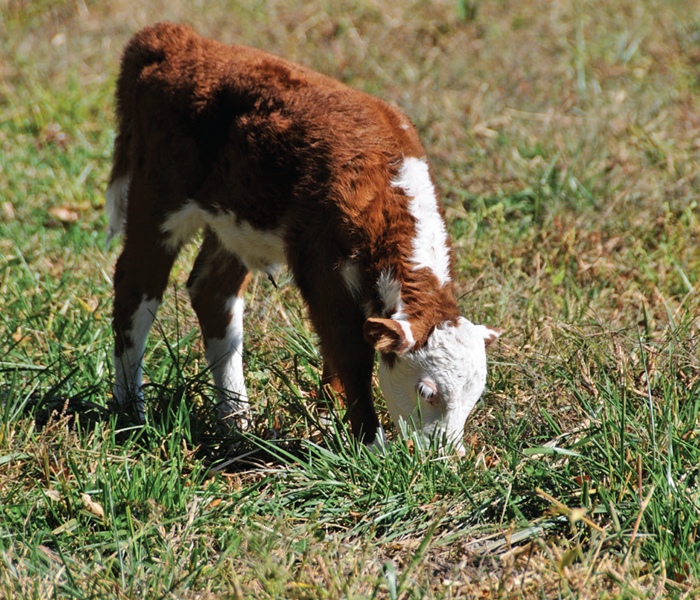 Rebuilding herds will take a backseat until the weather cooperates and forage conditions improve.
---
High cattle prices hurt feeders. For an industry that normally rejoices at price rallies, higher cattle and feed prices mixed with reduced supplies and drought mean tight and mostly negative break-evens for feeders.
No one knows how long that can be sustained, but some are already exiting or adjusting their inventory.
"Feeder cattle supplies are what they are, and we can't do much to change that quickly, so we have to adjust," says Walt Olson, general manager of Tri-State Feeders in Oklahoma. "It's a struggle for everyone to get the cattle they need, especially independent feeders."
For Tri-State Feeders, the current ratio in the yard is 40% company-owned, 60% customer-owned cattle, but Olson sees that ratio swapping within the next year or two as fewer customers want to own and feed cattle.
"With higher calf and feeder prices, cow–calf and stocker operators will see more opportunity to sell rather than feed cattle," he says. "The next time you'll see a return to retained ownership, it will take a big break in calf and feeder prices."
Feedyard occupancy levels are all over the board, adds Paul Colman of Frontera Feedyard in Muleshoe, Texas. His yard is at 45% capacity, compared to 96% at this time last year. By late January, capacity should be up to 65%. "Between 10,000 to 11,000 head is our break-even in terms of capacity, which is 33% of full capacity," he says.
To keep capacity within break-even ranges, Frontera is feeding breeding cows for cow–calf producers who want to keep herd genetics but have run out of grass. It is also feeding  replacement heifers and taking in more lightweight, high-risk cattle to background for larger feedyards.
Feed supplies are also pushing budget lines. Younger calves require more management, Olson says. Feedstuffs have been adjusted, too. "All of us have incorporated more wheat and cornstalks to replace alfalfa in rations," he says.
While the feedyard has access to dry distillers' grains (DDGs), even that's become cost-prohibitive since it is priced off of corn. Olson says he will continue steam-flaking corn, but is open to options.
Opportunities do exist. "This volatility also gives us lots of opportunities if we can be patient and don't act out of fear," Colman says. "Because you can manage the volatility."
A ray of hope for the entire cattle sector is improved weather conditions and feed prices this year. In addition, a boost in beef demand and higher beef prices will help counter seedstock and feeder cattle prices.
You can e-mail Kim Watson-Potts at [email protected].