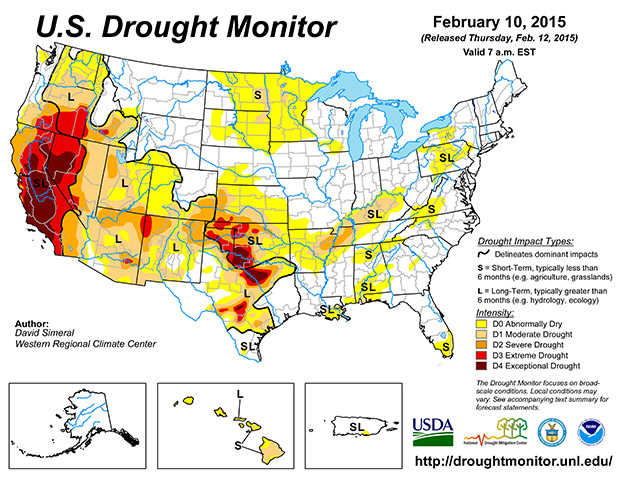 Cattlemen at the 2015 Cattle Industry Convention and National Cattlemen's Beef Association tradeshow heard an overall favorable weather forecast for cattle, crop and forage production.
Persistent warm waters from California and Baja to Hawaii, favor normal weather conditions in the Plains and Midwest this summer, said Art Douglas, Cattle-Fax.  Dry conditions might develop across the Southern Plains with this pattern, but the Midwest should avoid a hot dry summer.
However, with oceanic and atmospheric indices shifting away from El Nino, it is not surprising the January to March forecast shows a shift away from a classic wet-mild winter for much of the country.
"This has been the most up and down, hard to predict El Nino that I can ever remember," Douglas said. 
Since last March, following cool temperatures during winter 2013/14, temperatures rapidly warmed. They peaked in June and all of a sudden went wide and downhill. "El Nino means the Christ child. It's supposed to peak in December, not in June," he said.  
Even the NOAA model is a bit confused—it doesn't know if will be warm or if its going to be cold, he added.
The difference in this El Nino is that the warm waters that would develop in Southeast Asia are further west. "It looks like we are going to have 2 years of El Nino," Douglas said. "This El Nino is simply slow.
Spring Outlook
"Percent normal precip [over the last 90 days] has only been good in the far Southern Plains-Texas area, as well as the plains of eastern Montana. We still have lingering drought throughout the western U.S. and portions of the Central Plains. We look at the Palmer Drought Monitor Index, California is still in extreme drought conditions. We are going to keep working on that for the next couple weeks, in fact the next three or four months. Same way in the Southern Plains—even though we're starting to see some moisture there, drought is still considerably strong at the moment," he said.
"As we get into spring, we are expecting a trough in the southern Pacific to get stronger. There is going to be a squeeze play here between a trough on the coast and a trough in the eastern U.S. We'll get good moisture coming into the southwest but its going to be harder for moisture to get into the Southern Plains.
Temperatures in March should be warmer than normal in the West, cool all the way through the central part of the country, and cooler weather comes in again for April and starts contracting again in May. "You'll probably have some delayed planting due to the cool temperatures," he said.
The Midwest is likely to remain drier than normal into spring with temperatures averaging below normal through February and possibly March. Drought conditions are likely to remain unchanged from northern California into the northern plains and upper Midwest.