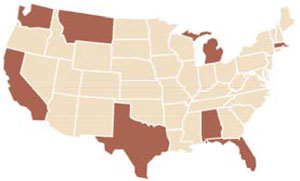 For more of what's happening in your state, visit www.BeefToday.com.
Washington
Big Fence Protects Ranchers' Pastures From Elk Herd
Wildlife and cattle have coexisted for eons, but for ranchers in the state of Washington, elk have out stayed their welcome. According to an Associated Press article, a growing North Cascades elk herd—also known as the Nooksack herd—has caused property damage across Skagit and Whatcom counties. As many as 80 elk have been grazing pastures at a time in the area, often breaking the low-wire fences that keep cattle in. To prevent any further damage, the Department of Fish and Wildlife has teamed up with the Tulalip, Stillaguamish and Sauk-Suiattle tribes to build a two-mile long, 6½'-tall electric fence this summer. For more information, visit www.BeefToday.com/Washington.
California
Bluetongue Mystery Solved
The bluetongue virus causes a serious disease that costs U.S. beef and dairy cattle and sheep industries an estimated $125 million annually. The virus is able to survive the winter by reproducing in several species of flies and other types of midges, report veterinary scientists at the University of California (UC)-Davis. The new study, posted Sept. 12 in the Public Library of Science journal, "PLOS ONE," details these new findings. "This discovery has important ramifications for predicting the occurrence of bluetongue in livestock and, we hope, for eventually developing controls for the disease," says co-author James MacLachlan, a UC-Davis viral disease expert. For more information, visit www.Beef Today.com/California. 
Montana
Digital Photography Book Features Ladies of Montana Ranching
"Ladies and Livestock: Life on the Ranch," the second book in the Montana Family Ranching Series from the Montana Stockgrowers Association's Research and Education Endowment Foundation, is now available for purchase on iTunes. The digital book is a pictorial explanation of several Montana women and their role in the ranching community. "Women are often described as the 'backbone' to the ranch, and we want to capture what that means in this book," says Lauren Chase, author and photographer. The book features more than 130 pages of stories, photographs and video features of the ladies who raise livestock, care for the land and build their families' legacies on Montana ranches. For more information, visit www.BeefToday.com/Montana. 
Mississippi
Lower Hay Production May Not Be Enough To Satisfy Demand
Mississippi hay supplies are expected to be dangerously low going into winter feeding. This year, crop estimates are 1.38 million tons, making 2014 the lowest hay production year for the state since 2000. Several factors contributing to lower than average production include the previous very cold winter, a wet spring and an abundance of armyworms that pressured yields. "Hit-or-miss rains can make supply in one spot very different from another. In general, recent hay prices have ranged from $40 to $120 per ton," says John Michael Riley, a Mississippi State Extension agricultural economist. In 2013, hay production in Mississippi was valued at about $157 million, 25% higher than the five-year average value. For more information, visit www.BeefToday.com/Mississippi. 
Florida
Florida ID Rule Now in Effect
Starting Sept. 4, producers in the Sunshine State began tagging all cattle 18 months of age or older to comply with the state's new mandate. The Cattle Identification Rule (Chapter 5C-31 in the Florida administrative code) intends to improve the ability of state officials to respond to serious disease outbreaks and help the industry maintain out-of-state markets. Cattle owners can apply official identification tags themselves or have their cattle tagged at an approved tagging site. A variety of official identification tags can be purchased through animal health product suppliers or USDA. National Uniform Eartagging System (NUES) tags can be obtained at no charge through the Division of Animal Industry. Enforcement of the rule starts Nov. 4. For more information, visit www.BeefToday.com/Florida. 
Texas
Tool Could Help Reduce Methane Emissions
Texas A&M AgriLife Research has developed cattle nutritional modeling systems to aid Texas feedlot operators in keeping feed costs in check. Now, there is even potential to reduce the methane emissions in feedlots by lowering the days on feed. The Cattle Value Discovery System (CVDS) helps feedyards sort animals into homogeneous groups so a higher percentage of cattle reach the desired level of grade on the day the pen is marketed. The Large Ruminant Nutrition System (LRNS) is a computer model that estimates beef and dairy cattle nutrient requirements and supply under specific conditions of animal type, climatic conditions, management and physiochemical composition of available feeds. When used in combination with LRNS, CVDS creates a complete ration for each animal and predicts the number of days to reach the target USDA grade. For more information, visit www.BeefToday.com/Texas.
Michigan
Michigan Hay Sellers List Stands Ready For Producer Use
Anyone in the upper Midwest who is looking to purchase hay can go to the Michigan Hay Sellers List. Part of the University of Michigan Extension program, the list is searchable for the specific hay and bale type producers desire. The program has been bringing buyers and sellers of hay together for more than 20 years. This year, Michigan received an abundance of rain, making hay yields much better than the two previously dry summers. Each year, more than $1 million of hay is listed for sale on the Michigan Hay Seller's List. For more information, visit www.Beef Today.com/Michigan.
Massachusetts 
Physicians Learn About Lean Beef's Role in the Diet
The National Beef Checkoff, in partnership with the New York Beef Industry Council (NYBIC) as part of its Northeast Beef Promotion Initiative (NEBPI), exhibited at the Pri-Med East Conference in Boston, Mass., from Sept. 12 to 14. The annual meeting was attended by more than 4,100 doctors, nurse practitioners, family physicians and other medical professionals. The checkoff shared the latest protein research to improve doctor recommendations of including lean beef as part of a healthy diet. Attendees received "Beef in an Optimal Lean Diet" (BOLD)   study toolkits, nutrition fact sheets and beef recipes. For more information, visit www.Beef Today.com/Massachusetts. 
HAVE SOMETHING TO SHARE? 
Send it here:

[email protected]