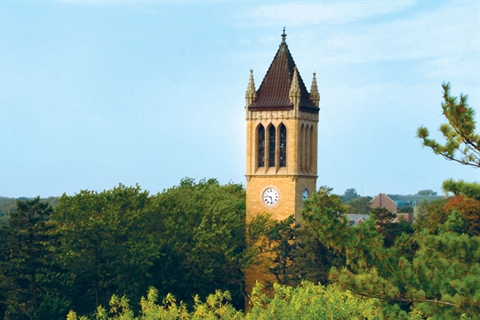 By Rick Smith, The Gazette, Cedar Rapids, Iowa
Central to the city's beefed-up economic development effort, city officials said Wednesday, is an initiative to focus on the core of the local economy -- the agricultural processing industry.
Mayor Ron Corbett and City Manager Jeff Pomeranz joined with Iowa State University President Steven Leath at City Hall to announce a joint venture in which an ISU research and extension scientist will take up residence at City Hall and work with the 26 agricultural and bioscience-based industries in the city.
"The task is to explore opportunities for expanding the success of our city's agricultural industries," Corbett said. "These industries are really the backbone of Cedar Rapids. And when you embed a (research scientist) from Iowa State University to provide special support, that can only have an upside."
Pomeranz said the goal is to create more jobs and strengthen the industries here.
ISU will pay 75 percent of the cost of the position, and the city 25 percent, but with the research scientist spending about 75 percent of his or her time in Cedar Rapids and 25 percent at ISU.
ISU's Leath said the university wants to serve the entire state, and he said the collaboration with Cedar Rapids helps the university accomplish that. He said ISU's agricultural, bioscience and engineering expertise coupled with Cedar Rapids' "powerhouse capabilities" in agricultural processing will benefit the city and all of Iowa.
"I feel really confident that we can take an existing industry that is strong in Iowa and move it to the next level with a partnership like this," Leath said.
He said the partnership with the city will focus on the research and development of environmentally friendly processing techniques, adding value to the waste from industrial processes, creating new bio-based products and enhancing worker skills.
"And ultimately, adding more jobs and revenue to this whole industry," he said.
Joe Colletti, senior associate dean of ISU's College of Agriculture and Life Sciences, said the collaboration between ISU and the city's agricultural processing industries might, for instance, help a company with an idea in green technology move to commercialize the idea.
"So we expect the innovation and discovery and improvements of existing processes. ... That excites us," Colletti said. He said ISU hopes to have the new position filled in three months.
The city's Pomeranz said community leaders have been talking about creating a relationship with ISU's agricultural experts for some years. City Council member Justin Shields was credited Wednesday with working to bring the idea to fruition. Shields, in turn, credited tree nursery owner Dwight Hughes of Cedar Rapids, an ISU alumnus, donor, fundraiser and member of the ISU Foundation, with helping to bring the university and the city together.
Pomeranz said there had been a handful of meetings between ISU administrators and Cedar Rapids city officials in the last two years. A year ago, the city organized a bus trip to ISU for representatives of agricultural industries.
In addition to investing in the ISU staff position, the city is adding a second economic-development specialist to its staff, as well as a development specialist to work on agreements between the city and firms with plans to expand or to move to the city, Pomeranz said.
Corbett said communities in recent years have been encouraged to embrace a new economy, but he said Cedar Rapids never turned its back on its agricultural sector.
"We stuck with it, and it's a good thing we did," he said.
During the city's historic flood of 2008 and the national recession, the city's agricultural economy kept Cedar Rapids strong, he said.
Corbett said the reality of today's economic development is that communities see most of their growth from the companies already there.
"We have a very strong agricultural base in Cedar Rapids, and it has a great opportunity for continued growth and expansion," he said.