On July 26, 2019, in the shadow of concrete and steel at the heart our nation's capital, more than 200 leaders representing USDA, EPA, conservation organizations, agribusinesses and food companies gathered in Washington, D.C. Their shared goal: to recognize the farmers and ranchers who are toiling in the soil to implement profitable conservation agriculture practices.
At the centerpiece of this movement is  "Agriculture Through the Voice of the Farmer," an interactive education installation on the National Mall that tells the story of modern and sustainable agriculture to millions of visitors annually.
The Heart of an Ag Movement
America's Conservation Ag Movement (ACAM) is a partnership between Farm Journal's Trust In Food Initiative, the Farm Journal Foundation as well as leading agribusinesses, food companies and non-profit organizations. This national education and engagement program is designed to rapidly increase the adoption, documentation and beneficial outcomes of conservation agriculture.
The initiative will build upon and amplify the work of agencies such as USDA's Natural Resources Conservation Service, as well as other public and private organizations and companies that have improved the ecological impact of agriculture.
At the July event, speakers included Bill Northey, USDA under secretary for farm production and conservation, and Greg Ibach, USDA under secretary for marketing and regulatory programs.
"The USDA is very interested in being able to promote American agriculture. And the most important way to do that is to build trust in food with consumers," Ibach says. "Being part of the 'Voice of the Farmer' exhibit is a way for farmers to tell their own stories to show the face of that American farmer so consumers can realize that we have the same values."
Farmers As Educators
On the National Mall, visitors can interact directly with farmers and garden ambassadors.
"There's this growing interest in finding out where food is coming from," says Mackenzie Koval, who served as a garden ambassador at the event. "Visitors thought it was really cool that farmers were there to talk about what they do."
---
Garden Bridges the Gap
"Agriculture Through the Voice of the Farmer" showcases the stewardship of modern U.S. production agriculture. Visit the exhibit on the National Mall (adjacent to USDA's Whitten Building) through October 2020. 

An Immersive Ag Experience
Located in a spot that attracts 24 million visitors annually, the garden includes screen-based kiosks and a mobile app featuring real producers. On Fridays (May through October), Ambassadors provide tours and answer questions.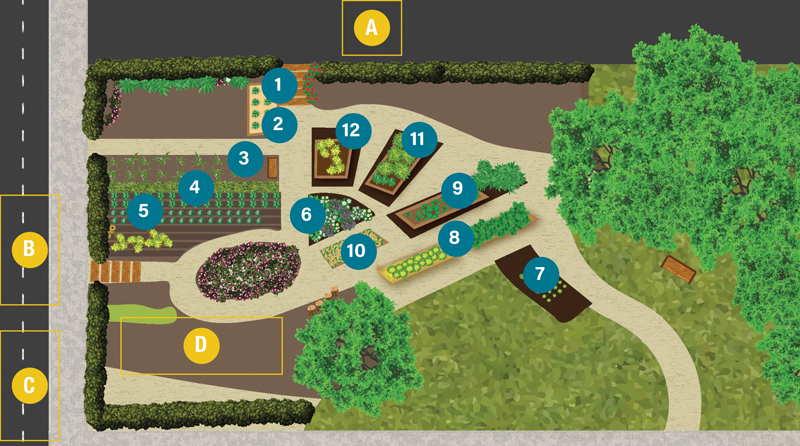 Walking Tour
1. Farmers and Ranchers of the U.S.
Growing: corn and soybeans
2. Irrigation and Moisture Sensors
3. Corn, Soybeans and the U.S. Economy
Growing: field corn, sweet corn, soybeans and sunflowers
4. Stewardship of Natural Resources
Growing: peas and squash (winter mini and summer butternut)
5. Animal Well-Being
Growing: alfalfa
6. Pollinator Garden
7. Water Usage
Growing: asparagus, eggplant (Japanese and Italian), cucumber, basil (sweet and Italian), sage, parsley, stevia and purple potatoes
8. Crop Protection
Growing: Swiss chard, collard greens and bush beans
9. Wheat and the U.S. Economy
Growing: soft winter wheat
10. Healthy Soils
Growing: strawberries (Ozark beauty and berried treasure)
11. Seeds and Herbicides
Growing: tomatoes, peppers, Italian parsley and basil
12. Safe, Affordable Food
Growing: squash (winter kabocha and summer cube of butter)
Learning Centers
A. Voice of the Farmer Video Kiosk Station
B. Photo and Press Point
C. Partner Center
D. Voice of the Farmer Quiz App Station and Meet the
E. Farmers and Ranchers of the U.S. Kiosk Station