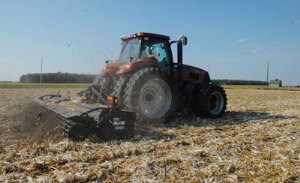 The country's first corn-based cellulosic ethanol plant opened today in Iowa, attracting attention from everyone from Agriculture Secretary Tom Vilsack to a European monarch.
Known as Project Liberty, the $275 million biorefinery is projected to produce 25 million gallons of cellulosic ethanol annually from 770 tons a day of corn waste: corncobs, leaves, corn husks, and corn stalks. It is owned by POET-DSM, a joint venture between South Dakota ethanol producer POET and Netherlands-based Royal DSM, which is known for its work in biomass technology. King Willem-Alexander of the Netherlands toured the plant Wednesday.
The plant has been seven years in the making, according to the U.S. Department of Energy, which, along with other government agencies, has provided milllions of dolllars worth ofo practical and financial assistance to Project Liberty since 2007.
According to U.S. leaders, the effort is expected to reap economic and environmental benefits for the country. "USDA invested to help bring this facility online because it is boosting America's energy independence, cutting carbon pollution, and holds great promise for our domestic agriculture and energy industries," Agriculture Secretary Tom Vilsack said. "This facility has already created local jobs and opportunities for farmers, and it will continue to spur local investment and open the door for new technology and job growth across rural America."
Project Liberty is the second cellulosic ethanol biorefinery in the country. The first opened in Florida in 2013, where it uses vegetative, yard, and municipal solid waste to produce 8 million gallons of ethanol annually.