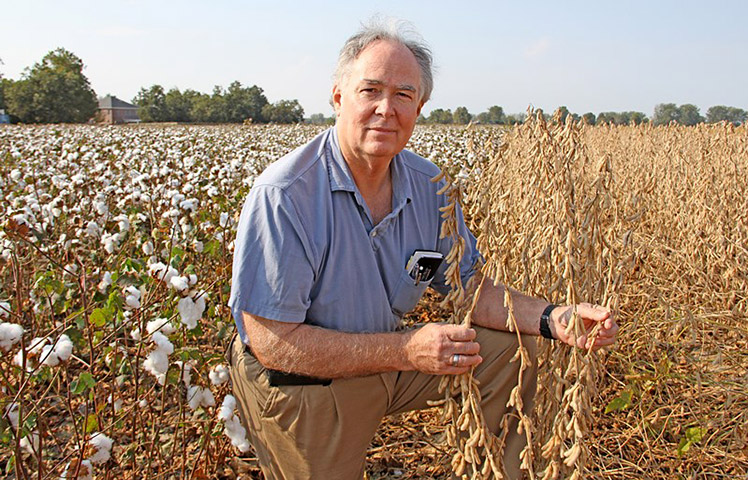 The last harvest is 88 years away and Wayne Ebelhar knows he'll never bring in the final crop. He is 12 years into a 100-year look at crop rotation with measurable results pointing to the bottom line. Producers see dollar signs and profitability numbers are the only way to change opinions on farming practices. Hell or high water, producers are often forced to chase markets. However, solid data stacked over multiple years shows the peaks and troughs of a consistent rotation system.
When Ebelhar, an agronomist with Mississippi State University (MSU), began the Centennial Plot program in 2004 (the centennial anniversary of the experiment station), he wanted to build a database quickly with corn, cotton and soybeans. Ebelhar's system is unique: four replications and 15 combinations going at all times. An 8-acre area at the Delta Research and Extension Center in Stoneville, Miss., is divided into 60 plots and 240 subplots. "Having this number of observations allows us the opportunity to assess natural variation in the field. Many of the long-term studies around the country only have years as replications. I'm getting four replications every time, with an additional four subplots inside, and that means 16 observations at the same time," Ebelhar describes.
It's a vast tightening of the scientific process and provides relatively fast data results. Ebelhar grows top GMO market varieties with furrow irrigation, single-row corn, single-row cotton and twin-row LibertyLink soybeans on beds. The shift to LibertyLink was necessitated by glyphosate resistant weeds. He uses the latest cutting edge technology related to fungicides, seed treatments, and soil samples. "Any new innovation comes out? We're adopting it for the study," Ebelhar says.
The main focus of the Centennial Rotation is the rotation effect on nutrient removal and yield. Ebelhar tracks removal of nitrogen, phosphorus, sulfur, and potassium. Despite a dramatic rise in yields, he often finds corn and soybean farmers under-applying fertilizer. Consistent withdrawal from the soil bank without putting money in is a losing proposition. "We're looking at tremendous nutrient uptake with high yields in corn and soybeans. After 12 years, if we show 2,600 lb./acre of potash removed, the figure hits home with farmers," he notes. Ebelhar also takes careful measure of the practical effect of a crop switch. "If I made 1,000 lbs./acre of cotton in a continuous cropping system and I made 1,200 lbs./acre in rotation following corn, I take the target price of 65 cents and do the multiplication. Evaluation is plain and simple."
Pinpointing the complexities and causes of commodity shifts is like herding cats. The only sure bet with commodity shifts? There's another one coming. The Centennial Plots help prepare producers for the shifts, says Bobby Golden, MSU Extension soil fertility agronomist. "It's very powerful for dollars-and-cents analysis over time. You can go back and see the yield increases to trace the monetary benefits to a farmer over time compared to other rotations." Multiple years of data showing yield benefits of a particular rotation, combined with nutrient draw-down results, weigh heavy when a producer considers soil test ramifications of altering the rotation, adds Golden.
"We're dealing with crop systems that don't change rapidly, and the Centennial Rotation research is needed to characterize those changes," echoes Larry Oldham, MSU Extension soil and water quality specialist.
Producers see the bottom line, and Ebelhar's research is connecting yield gains with dollar figures. "Rotation is the way to go," he says. "Rotate chemistries for disease and insects. Plant crops with different root structures. Recognize the different levels of nutrient removal. All of that together means profit and that's what the research plots repeatedly tell us."
Twelve years in, Centennial Rotation data already translates into farm profitability, and Ebelhar's work will have a lasting effect on U.S. agriculture. He notes the irony of a project set to run at least another 88 years. "You have to start somewhere," Ebelhar laughs. "Anyhow, I never planned on harvesting the one-hundredth crop."