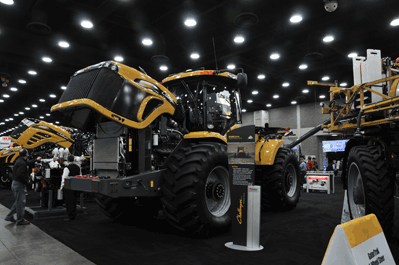 Bookending its track tractor series, Challenger introduces the 600E and 900E tractors.

The articulated four-wheel-drive 900E series range from 490 to 590 engine hp with three models. Overall, the tractors boast a sustained torque curve, high-flow hydraulics, smooth PTO engagement, a robust three-point hitch and fully integrated automated guidance in a deluxe cab.

Outfitted with AGCO Power 16.8 Liter engines, the series provides maximum engine horsepower ranging from 529 to 637 hp. The efficient engine design achieves Tier 4 Final emissions standards while eliminating the need for a diesel particulate filter. The high torque rise and sustained torque curve provide exceptional lugging ability with no need to downshift or pull the implement out of the ground, boosting productivity and providing exceptional fuel economy.

Built to exacting standards, the custom-fit design and smaller cylinders dramatically reduce engine noise. Each component in the industry-exclusive balanced rotating group (cam shaft, connecting rods, bearings) is calibrated to the nearest gram to reduce vibration and extend service life. Operators also benefit from smokeless operation at low RPM thanks to 29,000-psi injection pressure and durable Bosch fuel injection hardware.

Standard hydraulic capacity has been increased to 58 GPM, and a high-flow option of 85 GPM is available. The tractors are outfitted with rugged Category V drawbar with Category IV adapter, which saves time when changing implements. Smoother PTO engagement reduces wear and tear on larger implements.

The deluxe cab feature upgrades including leather seat options. All models are Auto-Guide 3000 ready from the factory.

The 600E Series features give models ranging from 270 to 370 maximum engine hp and are powered by AGCO Power 8.4-liter engines. Now with twin turbochargers, these power plants deliver up to 1,136 foot-pounds of torque at low RPMs for enhanced pulling capability and greater energy efficiency.

Maximum engine power is available in all applications, for delivery of full potential, even under heavy loads. These engines are Tier 4 Final compliant and are outfitted with third-generation selective catalytic reduction (SCR) technology, a new diesel oxidation catalyst (DOC) and a cooled exhaust gas recirculation system (cEGR).

The new CYCLAIR cooling package improves cooling capability without increasing overall footprint or size of the components. The hood and grill have been updated to increase intake airflow, while vents on the side let warm air out. A bypass system manages airflow to the intercooler while maintaining valuable airflow to the radiator.

All MT600E Series models are designed to take on larger implements with their high-flow hydraulics and beefy new three-point hitches. The standard hydraulic package provides 54 GPM.
The tractors are geared with a proven, reliable CVT transmission.

The MT600E Series provides an updated cab, and as options the front axle suspension and Opti-Ride Plus cab suspension work together to provide a smooth ride in the field or on the road. The new dashboard is designed around a bright, easy-to-read setup and system information screen (SIS) that simplifies navigation with a 50% larger screen that's 10 times higher in resolution than the previous screen. The new B-pillar design collects important settings and controls in one convenient side post, reducing cab clutter and simplifying operation.

All models are equipped with new Auto-Guide 3000 fully integrated into the cab.

For more, go to www.challenger-ag.com or visit your Challenger dealer.
 
---
Click here for complete coverage of the 2014 National Farm Machinery Show. 
---