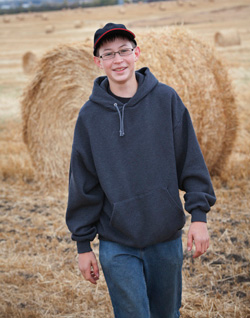 Stricter regulations bring new training requirements
Producers could soon lose a share of their farmworkers or be subject to big fines if one of those workers sustains a serious injury, or dies, in a farm accident.

The U.S. Department of Labor's Wage and Hour Division is now poring over the more than 3,000 comments it received on its proposed changes to the Hazardous Occupations Orders for Agricultural Employment. The changes will affect hired farmworkers between the ages of 14 and 16 regardless of their immigration status. Children working on farms owned or operated by their parents will continue to be exempt from the orders.

While no one knows for sure exactly how many young workers would be affected by the changes, the Department of Labor estimates that between 50,000 and 60,000 hired farmworkers are between the ages of 14 and 16. The most important of the proposed child labor changes—the first in more than three decades—that crop producers need to be aware of include:
The tractor-safety certification training required for these workers to be able to operate tractors and other farm machinery would be increased from 20 hours to 90 hours. Children enrolled in the program, however, could work and operate farm machinery while taking the training.
The height at which these children could work would be lowered from the current 20' to 6'.
They would be banned from working in grain elevators.
They would not be allowed to use electronic devices such as iPods or cell phones while operating a motor vehicle such as a tractor (GPS is an exception).
Tractors operated by these workers would need to have rollover protection and a proper seat belt.
 
"Farmers have big concerns about some of the proposed changes," says Craig Lang, president of the Iowa Farm Bureau Federation and a fifth-generation dairy producer from Brooklyn, Iowa. A lot of kids work for neighbors, and there are certain things parents would like their kids to be able to do when they reach age 14 or 15—including running a tractor and other farm machinery, Lang says.

The proposed change that Lang and others have the biggest objection to is the extended requirement for tractor-safety certification. "There's no realistic way to financially support the expanded training," says Bob Aherin, an ag engineer specializing in farm safety at the University of Illinois. "There are very few Extension programs that would have the capacity to offer the coursework. It would be great if we could get young people to go through a 90-hour training, but
I just don't see it happening."

The height restriction is also an issue. "Farmers view this as another intrusion of government into the private lives of citizens," Lang says. "Parents should be able to determine whether it is safe for their child to work for a neighbor and at what height. When does the intrusion of government stop and allow good parenting to take over?"

Greg Rinehart farms 900 acres near Boone, Iowa, with the help of his 10 children. He's concerned that kids across the country—particularly those in locations far from city centers—will lose out on the opportunity to work on farms if the proposed rules go into effect. "Kids learn great work ethics on farms," Rinehart says. "They learn the value of hard work, work skills and life lessons. We don't want to limit kids' exposure to farms and farm work."

The penalty could reach $100,000, the maximum allowed by law, for employers who knowingly violate the orders and employ an untrained child worker in a hazardous job who sustains serious dismemberment or dies. "Minor violations could result in a warning," says Michael Hancock, assistant administrator for policy at the Department of Labor's Wage and Hour Division. "The secretary of labor really believes in these regulations. To expect a final ruling in 2012 is not too ambitious. This is a life and death issue for children."

According to study conducted by the General Accounting Office, 4% of all working youth during the 1990s were employed in agriculture, but they experienced more than 40% of the youth occupational fatalities. The Bureau of Labor Statistics reported that agricultural workers ages 15 to 17 have a risk of dying that's 4.4 times greater than the average 15- to 17-year-old worker. The greatest risk of death comes from tractor rollovers.