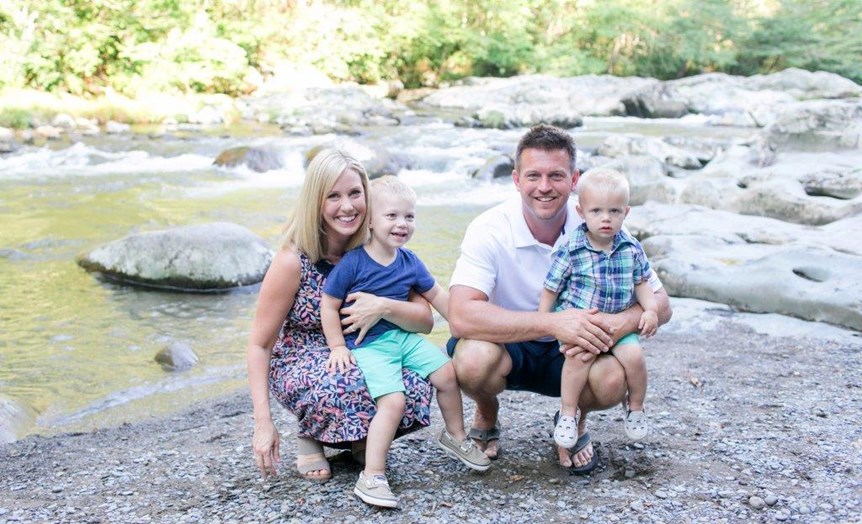 Jason Mauck unleashes an easy laugh, grips a wood, and rips a screamer down the length of a manicured, back yard fairway. The Indiana farmer is walking his own piece of heaven, 18 holes and three greens spread across 15 acres of former pasture. No shirt, no shoes and no rules required. When golfing or spending time with his wife and two young sons, Mauck is guided by better angels—but when it's time to work farmland, the devil drives.
A mind in constant motion, Mauck is obsessed with narrowing the gaps of agriculture. An apostle of relay cropping, Mauck, 37, backs his words between the rows, interplanting cash and cover crops in Constant Canopy, a self-devised agricultural symphony. One middle at a time, the maverick grower is uncovering clues and running wide open toward greater farming efficiency.
Beside his uncles, cousins and grandfather, Mauck works 3,000 acres of corn, soybeans and wheat, in addition to 25,000 hogs per year in Delaware County, in the east-central section of the Hoosier State. Mauck's operation sits along an ancient glacial line, and to the wooly east, the ground is easier on a coon dog than a tractor. Yet, Mauck's farmland connects with an abundance of extremely fertile land to the west. He is blessed with "monkey dirt," a heavy clay that often runs 15' to 25' deep. It's soft, relatively forgiving, and drinks roughly 35" of rain per year, but has been worked hard over the years. Too hard, according to Mauck.
When Mauck talks farming, a stream of consciousness spills forth at a machine-gun pace, with experimentation, business models, sustainability and yield potential tethered in the flow. He's quick to whip out a smartphone, hop on Twitter and fire off a lesson learned to a cohort of hungry followers. Driven by the possibilities of improvement, he doesn't sleep during the high points of crop season: The body is willing, but the mind churns at full-bore. "I'm a psychotic type B personality. I'm beyond laid back 90% of the time, but I'm a maniac burning with passion the other 10% and I don't waste even a second of work."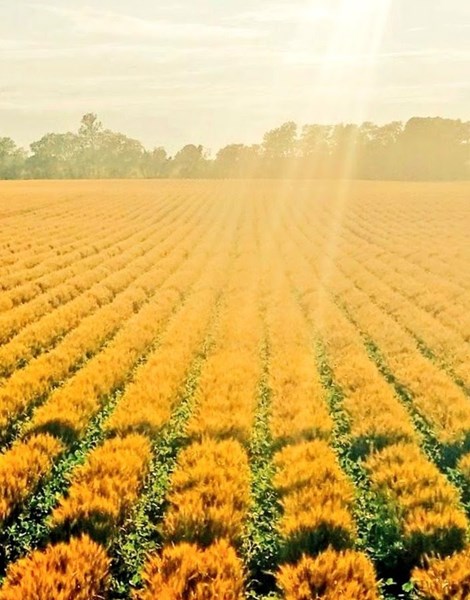 The Father's Mantle
Understanding the source of his lust for life requires a look over Mauck's shoulder. He earned a marketing degree in college and left behind $1.80 corn for cloistered office walls, selling insurance in Indianapolis. It was a deal made in hell for a farm boy, and Mauck was back in Gaston within months, trading the suit and tie for landscaping. He hit a groove, working his business while helping his father, Bill, on the farm at planting and harvest, or loading pigs out. For a young bachelor riding a high of self-interest, bitter irony was hiding just around the corner. In the summer of 2010, Bill was diagnosed with pancreatic cancer.
Mauck was about to assume his father's mantle under dire circumstances. "My dad got sick and I was suddenly dealing with hogs, planting, spraying and trying to help get out 3,000 acres. I studied to get my CCA, watched every online video I could find, talked nonstop with area farmers, and tried to soak up as much as humanly possible."
Bill passed away in less than a year at age 53, leaving Mauck, 30, unmoored and inconsolable. He careened from running a successful business garnished with the latitude of personal freedom, to mandatory walks through hog barns—alone. "My dad was gone and I had no answers," Mauck recalls. "Every young guy struggles on the farm, but this was different. Depression and beer were where I took comfort."
Knocked to the mat, Mauck was unable to see beyond the death of his father … until he stumbled into Kortnee. Pared down, Kortnee pulled him from the mire: "She changed my whole life and my entire way of thinking. Life wasn't about 'me' anymore and I wasn't about to disappoint Kortnee. She was what I needed; she was all I needed."
The pair married in 2013, and 10 months later, Liam was born. (Another son, Case, would follow roughly a year later.) "My love and feelings for my dad were transferred tenfold to my wife and child," he describes. "Ambition drove to me run harder than ever for them and the farm was therapy."
Meeting Kortnee gave Jason hope for the future, and having Liam and Case gave him purpose. "The combination of those things is why he's so passionate," Kortnee says.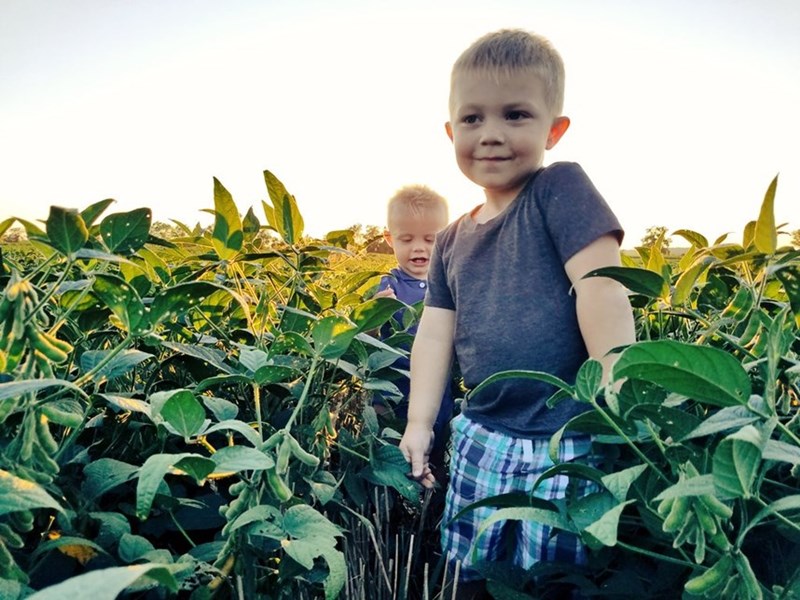 "Watching him talking about farming is addictive," she continues. "He's truly excited about what he does and that enthusiasm is evident to everyone who spends time talking with him."
For Mauck, family passion fuels science: "Every operation is different, but we all want to keep figuring out how to eliminate the BS of unnecessary costs and waste. We've all got inefficiencies staring us right in the face and I want to go right after them."
Constant Canopy
With his perennially-minded landscaping background, Mauck chafes at the prospect of working fields to brown in the fall and not seeing green until May. (He still owns his original landscaping business.) In addition, he sees expansive weed pressure powered by residual nitrogen as a constant thorn. Simplified, Mauck wants to use relay crop offense as his best defense.
His laboratory is a 60-acre spread of Constant Canopy, and he hopes to extend intercropping across his entire farm in the future. Mauck aims to use wheat and cover crops as a sink to exhaust ammonia and manure, while consistently expanding the width of the wheat rows. "One seed will tiller exponentially if its got plenty of sunlight to feed on with manure placed underneath," he says.
In 2016, he expanded from 30" to 37.5" rows and gained a complete canopy with wheat and cover crops (tillage radishes and oats). He followed in March with a soybean stand, but the wheat grew quickly and the rows closed, throwing shade on intercropped soybeans. Mauck used a plant growth regulator (PGR) to straighten the wheat, allowing sunlight to reach the soybeans. He further expanded to 60" rows to get away from PGR use and still allow ample room for soybeans.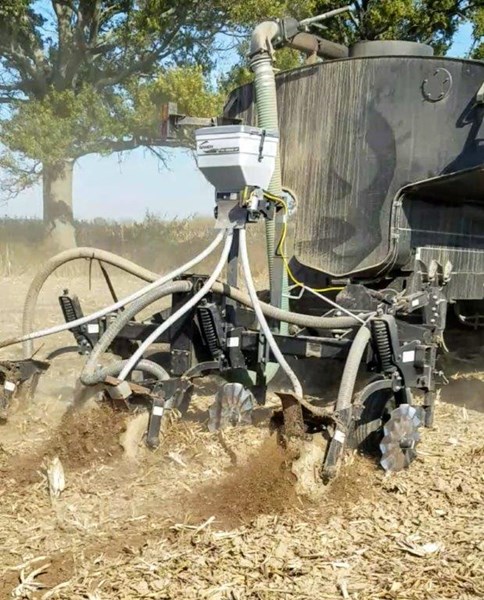 Battling anemic wheat prices, Mauck has to compromise by lowering wheat yields and cost of production, and providing more sunlight to soybeans. Initially, he used a custom drag line operator to apply manure across the entire field, resulting in uneven wheat according to injection site. In order to remedy the growth rate problem, Mauck devised his own contraption to place wheat directly above manure and avoid a muddy mess. "Instead of using a double disk opener, I drop wheat seed into soil with a strip till unit essentially employing two disks to make a berm," he describes.
He uses a deflector to place seed into fluid soil at .5" to 2" deep. The manure is roughly 90% water, and the upwelling moisture produces a seed coddling effect. The technique eliminates the expense of custom application and cuts manure rates in half, according to Mauck. Even more significantly, he says the wheat seeding rate drops by approximately 80%, and soybeans are seeded at 120,000—less than half the rate of traditional double crop soybeans after wheat harvest
An 80% seeding rate reduction is a tantalizing prospect. Mauck spends $12 to $15 per acre on wheat seed. A typical wheat field in Delaware County is planted at close to 3 bu. per acre, but Mauck plants at .5 bu. per acre, roughly a five-sixths decrease: "The big value is forcing the plant to multiply through placement of manure by capturing nitrogen. I'm bottling energy."
In addition to major seed savings, Mauck is already sitting on millions of gallons of manure. When he grows 60 bu. to 80 bu. wheat and achieves the same yield on intercropped soybeans (plus gets cover crops in to reduce herbicide costs and catch/release nutrients), his overall revenue is stronger than high bushel corn.
Mauck has several farming friends that follow a system closely related to Constant Canopy, and the group is an unofficial research community, sharing tips and techniques. Mauck's ideas are outside the mainstream, but he says the field lessons are accumulating fast and bringing concrete results, including changing the shape of wheat growth. "I can actually get similar sun capture to a monocrop field and that's part of where added revenue comes from. There is no economic reason for me to put nitrogen on wheat in the spring," he explains.
Mauck uses different crops (covers, soybeans and wheat) with distinct growing seasons to maximize sunlight capture. It is a simplified version of his landscaping business where he might start with daffodils and end with kale, occupying a 10 or 11 month where a different plant blooms each month. Boiled down, Mauck is using relay cropping to stage acres with sunlight capture and fertilizer placement.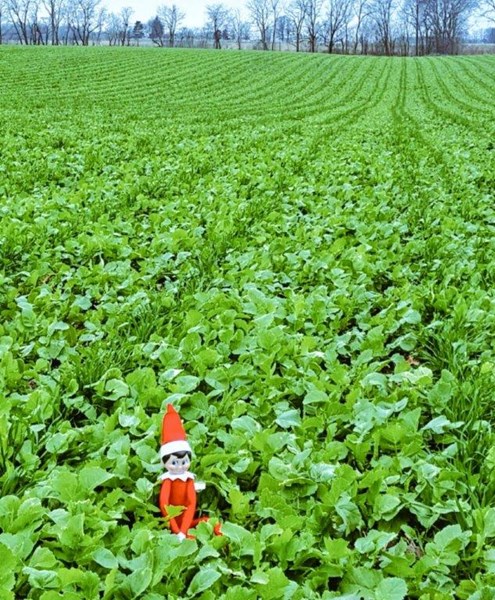 "All in all, we extend the growing season exponentially if we speed growth during the cool fall with precision manure placement, and the crops wake much easier in spring with decomposing cover crops. Plus, I can plant earlier because the foliage makes the soil temperature less variable," Mauck notes.
"I'm not lost exclusively in soil health," he adds. "I think the big reason people are interested is because I also talk about money. Every farmer has unique dynamics in the field and there are a million shades of gray, but Constant Canopy is teaching me by the day."
Stan Clamme, owner of Stan Clamme Pioneer Seed and Cattle Sales in Hartford, Ind., says Mauck consistently finds new paths of innovation: "Jason's farming ability and drive are clear at the top. He's a very interesting guy, always on the cutting edge, and brings past and future together in his fields."
Family Fuel
As the consummate tinkerer, Mauck never stops probing, always trying to keep pace with a new facet of farming. In 2017, he grew a garden corn plant with 31 ears to show how sunlight drives yield, testament to a unique farming mind. Yet, after hour upon hour in the box or walking the rows, Mauck is not driven by dirt. Ultimately, family fuels his farming: "I take nothing for granted because I know my dad set me on this path. My boys are everything and my life is about treating their mom right and being a good example. My farming passion carries over from the love of my family."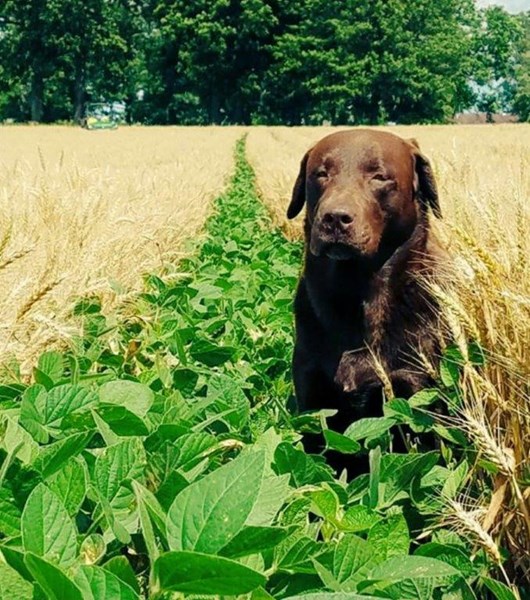 "Jason approaches farming like he does life," Kortnee adds. "He focuses on what matters and tries to eliminate the things that don't."
The constant flood of ideas might be viewed as a burden by many producers, but Mauck welcomes the flow. "I can't stop and I don't want to stop all these crop ideas constantly bouncing through my head," he concludes. "No farmer likes to mess up, but there is a part of me looking forward to my next mistake in the field. Why? Because I'll learn from it and get better the next time."