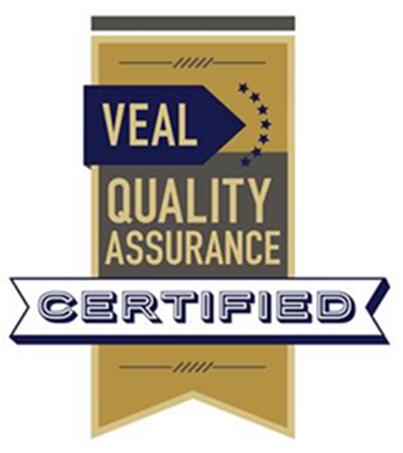 The beef checkoff recently released an updated Veal Quality Assurance (VQA) program which can be found on the recently updated www.VealFarm.com. The VQA program brings consistency and uniformity to on-farm care to result in a safe, wholesome, quality veal product. By being VQA-certified, veal farmers are helping to build trust and confidence in that product and demonstrating a commitment to quality to consumers.
"The updated Veal Quality Assurance program encourages increased veterinary interaction with veal producers," says Wisconsin veterinarian Dr. Vicky Lauer. "This interaction will help decrease antibiotic usage in calves, and ensure a quality product for consumers that is free of all residues."
As part of VQA, veal farmers must meet quality production practices in areas such as:
Calf health and treatment records
Barn preparation sanitation for each new herd
Barn ventilation, lighting and herd health and safety
Calf nutrition, watering and transportation
Rules, regulations and laws
Nutrient management
The manual contains specific recommendations relevant to dairy producers, such as:
Dairy farmers should note that when anticipating transporting male bull calves to veal farms, many medications approved for use in dairy calves are prohibited for use in veal calves and will quickly cause violative residues when administered to veal calves.
Hormone implants are strictly prohibited for use in veal calves.
For veal producers and farmers selling dairy bull calves that may be marketed soon, use only products that are approved in pre-ruminant calves. Avoid any products with the statement "not for use in calves to be processed for veal".
Famers should consult FARAD's VetGRAM search for products that are approved in veal.
"All livestock producers have an ethical obligation to provide for the health and well-being of animals in their care," adds Lauer. "The VQA program allows veal farmers to certify their commitment to that ethical obligation by pledging to adopt a series of quality production practices, complete training and confirm a Veterinarian-Client-Patient Relationship (VCPR)."
Involvement in the VQA program begins with your veterinarian.  Program materials can be accessed on www.VealFarm.com.
For more information about your beef checkoff investment, visit MyBeefCheckoff.com.

Source: Cattlemen's Beef Board