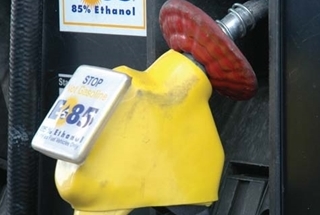 Chevron Corp.'s experiments and research into turning plants into alternative fuels that can be profitably manufactured on a large scale have failed.
The second-largest U.S. oil company by market value spent "significant sums" and assigned some of its best scientists to evaluate more than 100 kinds of feedstock and 50 techniques for converting them into fuels without success, Chevron Chairman and Chief Executive Officer John Watson said today in remarks prepared for an Economic Club of Minnesota lunch in Minneapolis.
"The smartest minds in my company and others haven't yet cracked the code on pairing the right feedstock conversion technology and logistics in an economic and scalable package," Watson said.
Chevron has been scaling back some of its investment in renewable energy including solar and fuel cells to focus spending on higher-profit ventures such as deep-water oil wells and natural gas liquefaction. The company has said it remains dedicated to other forms of renewables such as geothermal.
Watson, a University of California at Davis-trained agricultural economist, also said the U.S. government should reconsider the mandate requiring domestic refiners to add corn-based ethanol to gasoline.
"Is it really good energy or land-use policy to have 40 percent of our corn crop effectively mandated for fuel use?" Watson asked in the prepared remarks. Minnesota is the fourth- largest U.S. corn-producing state, according to the Agriculture Department in Washington.
Fracking Water
Watson also said Chevron is close to recycling 100 percent of the fracking water and brine involved in drilling wells in the Marcellus Shale formation beneath Pennsylvania and neighboring Northeast states.
Water polluted with salt, chemicals and naturally occurring impurities has overwhelmed treatment systems in some U.S. shale regions as the drilling boom multiplied the volumes rising to the surface alongside gas and oil. Watson didn't provide any other details on the San Ramon, California-based company's Marcellus water program.
Exxon Mobil Corp. is the largest U.S. oil producer by market value.