As farmers continue to make plans for the 2020 crop year, USDA thinks those plans include more corn, soybean, rice and other feed grain acres this year. During the Ag Outlook Forum this week in Washington D.C., the agency revealed it thinks farmers could plant 5% more corn acres and 12% more soybean acres compared to a year ago.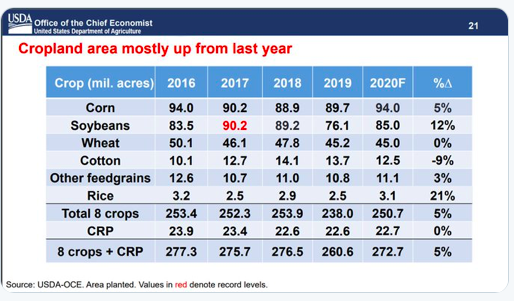 "The estimates that have been done to this point are simply assessments or evaluations, based on economics, not really based on a survey of what producers are thinking or the industry representatives," says Arlan Suderman of INTL FCStone. "It gives a baseline, so to speak, but that's about it. What matters is how the farmers are thinking, and we'll get that in March."
The end of March is when USDA will release its March Prospective Plantings report, a report based on producers' thoughts. Suderman says that is a more accurate snapshot of what producers truly intend to plant, although the market learned last year even that can change based on weather.
Based on current prices, Suderman says USDA is in line with his forecast of more corn acres in 2020. Scott Brown, an economist with University of Missouri, says he agrees—more corn acres is very likely in 2020.
"USDA tells us 94 million acres out of the USDA Ag Outlook forum, and it seems to me when you look at where corn is relative to soybeans right now, maybe there's some interest in more corn," says Brown. "But I agree, it's going to depend on weather between now and when we really try to get crops in the ground as to what the ultimate mix looks like."
As for corn, Suderman thinks there are a slew of acres that could come back into production this year, but some of that hinges on what happens in the northern tier of states.
"We have some areas that want to fix their rotations after last year or get back into those rotations, increase their corn acres," he says. "Then you look at the Northern Plains where they still have a lot of last year's corn still in the field, prospects don't look real good for the coming year for drying out in that region, they're going to be a little quicker to take prevent plant or to plant an oil seed or wheat or some other type alternative crop. So, I think it'll offset that. 94 [million acres] is probably a good number right now."
The only crop where Suderman says he differs with USDA on acreage is with wheat. He thinks wheat could see an even bigger acreage drop than the what USDA showed in its forecast this week.
"I think there's a little discouragement in wheat country and I think acres will end up being a little bit lower than what USDA thinks," says Suderman.
Both analysts reiterate that it all hinges on weather again this year, as that's often what dictates how much corn can actually be planted.
"We have a lot of time between now, and when we actually might talk about planting, especially when we think about how delayed we were last year. It just reminds me though, if we plant 94 million acres of corn and have a good year, that's 15 billion bushels of corn [that] we'll get to deal with come this fall, and I don't think that makes for a lot of optimism."
Fifteen billion bushels of corn would be a massive crop to chew through. USDA acknowledges some of that, and revised its corn price forecast lower this week, as well. Suderman says the only answer to higher production is higher demand.
"That's why we need Phase One trade deal with China to work," he says. "Secretary Purdue acknowledged that these outlooks do not include Phase One exports, and a big reason for that is coronavirus. We simply don't know when China is going to the resources start taking shipments on commodities. I still think they want to, it's whether they'll have the resources do so."
While some analysts were frustrated UDSDA didn't include more of its forecasts for exports to China in the Ag Outlook numbers this week, Brown thinks that decision was wise by USDA.
"I think it's the smartest thing they could do for right now," he says. "There's too many uncertainties about what Phase One really means. And again, you throw on top of it now coronavirus, we know we have some slowdowns in those ports."
Brown cautions producers that even with a current slowdown due to coronavirus, if China would come to the market and buy it could be needed momentum for the markets.
"Longer term, this could still be really bullish if we get Phase One implemented in a way that it grows," he adds. "I don't want us to be overly pessimistic today when I see that in the longer term we have some real possibilities there."
Suderman says even though Chinese ports are overloaded with imports right now, and containers are stacking up, he thinks China will signal it's still committed to the deal through some immediate purchases.
"They've been shopping over the last week, and I do expect a big announcement of some sales here over the next couple of weeks," says Suderman. "Shipments may be a different thing. I think they want to show we're still in business [and that] coronavirus hasn't handicapped. So, there's a lot of pride in the Chinese government. I think they want to show that but shipments may be much later in the year."
"I certainly think there might be some interest in pork, just given the situation that's going on with a very different level of pork industry in China today," he adds. "It seems to me there's interest in meat and protein. I wouldn't be surprised for chicken to be on that list, and I wouldn't completely surprised to see beef, as well. To me things like soybeans come later in the year."
Related Stories: 
USDA's Own Numbers Cast Doubt on Trump's China Farm Deal