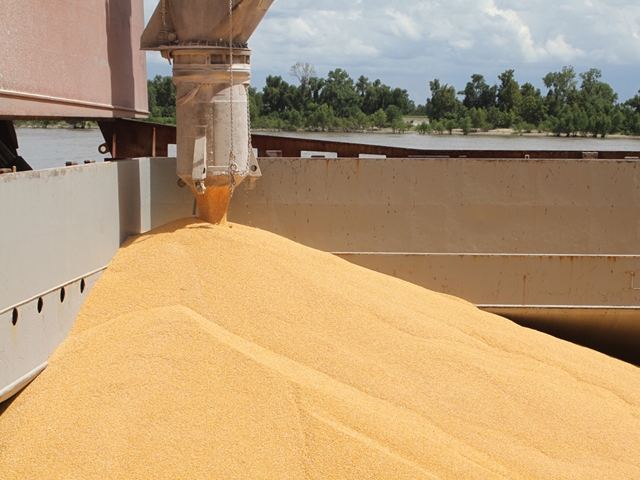 China's decision to lift an import ban on some genetically modified crops triggered an immediate jump in purchases of U.S. corn-based feedstock and may spur a recovery in corn shipments by the world's second-biggest consumer.
Chinese Vice Premier Wang Yang indicated the Ministry of Agriculture lifted restrictions on several genetically modified crop strains, Tom Vilsack, U.S. Secretary of Agriculture, said yesterday in Chicago, where the two countries are holding trade talks. The approval may lead to a surge in grain shipments from the U.S., according to China-based analysts at Shanghai JC Intelligence Co. and Beijing Orient Agribusiness Consultant Ltd.
China, already the biggest market for U.S. food and largest buyer of its soybeans and cotton, is seen to be relaxing curbs on corn imports as the government pushes forward with a campaign to gain public acceptance of genetically modified organisms and seeks to expand food supplies. Chinese buyers bought as much as 900,000 metric tons of a corn-based feedstock known as dried distillers grains from the U.S. as the approval neared, according to the China National Grain and Oils Information Center.
"All the infrastructure and logistics facilities are in place, so a large part of China's future corn imports will be from the U.S.," said Ma Wenfeng, a senior researcher at Beijing Orient. "The U.S. is world's largest corn supplier, with stable quality."
Purchases of dried distillers grain, a by-product known as DDGS produced when corn is stripped of starch during ethanol production, may recover immediately, according to Sylvia Shi, an analyst at Shanghai JC Intelligence.
Largest Buyer
China is the largest buyer of DDGS from the U.S., with monthly imports averaging more than 600,000 tons from April to August, according to Shi. Inbound shipments fell to below 118,000 tons in October after China turned away some cargoes found to contain the MIR 162 strain developed by Syngenta AG that was unauthorized for import, she said. Shares of the company rose as much as 2.6 percent so far this week amid reports of the approval.
China has also rejected over 1.2 million tons of U.S. corn since last year because they contained MIR 162, according to Shanghai JC estimates.
The country's imports of the grain will fall to a four-year low of 2 million tons in the year through September 2015, according to U.S. Department of Agriculture estimates released before reports of the approval this week. Inbound shipments may double to 4 million tons once the ban is lifted, according to Li Qiang, managing director at Shanghai JC.
Sensitive Issue
Sellers in the U.S. "shouldn't hold their breath" for an immediate jump in China's corn imports beyond a few million tons a year, said Meng Jinhui, an analyst at Cofco Futures Co., a unit of state-owned Cofco Corp., the country's largest grain trader.
Faced with skepticism at home about the safety of genetically modified organisms and a long-standing policy of meeting the country's food demand with domestic supply, it's unlikely the country will further relax import controls on grains such as corn, Meng said.
"Will China become the largest corn buyer as it did the soybeans?" Meng said. "I personally doubt it"
China will harvest 215 million tons of corn this year, down from 218.5 million in 2013, according to the country's National Bureau of Statistics.
"The government also has more than 80 million tons of temporary corn stockpiles and an unknown amount of permanent stockpiles," Meng said. "Corn is a lot more of a sensitive issue here than soybeans."
Moot Point
The country may face food-supply challenges in the future because of underinvestment in farming industry and as it struggles with a shrinking amount of arable land, rising labor costs and increasing demand for meat that requires more grain for feed, said Beijing Orient's Ma.
"If the current situation continues, then we will have a big problem with grain production," Ma said. "The whole grains self-reliance issue will become moot."
Corn in the U.S. declined 3 percent this year, after tumbling 40 percent in 2013, as expanding harvests in the U.S., Europe and China created a supply glut. Futures for March delivery on the Chicago Board of Trade rose 1 percent to $4.125 a bushel at 5:54 p.m. Beijing time today. Corn for May delivery traded on China's Dalian Commodity Exchange closed at 2,395 yuan a ton ($9.78 a bushel).