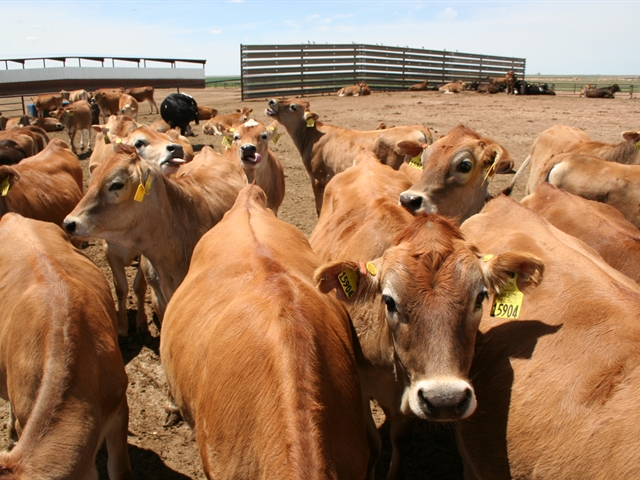 China Modern Dairy Holdings Ltd. plunged to the lowest level in more than a year in Hong Kong after the raw-milk producer said the government is investigating media reports several cows sold by its unit tested positive for bovine tuberculosis.
The reports alleged several of 94 dairy cows sold by the subsidiary in an auction had tested positive for bovine TB, while some tested positive to a brucellosis antibody serum test, Maanshan, Anhui province-based Modern Dairy said in a statement to the Hong Kong Stock Exchange today. Humans can contract TB by drinking unpasteurized raw milk from infected cows.
"This is an isolated incident and not an epidemic by any stretch of the imagination," Jeremy Yeo, an analyst at Mizuho Securities, wrote in a note to clients, citing a conference call with Modern Dairy today. It won't lead to a massive product recall as milk pasteurized under high heat kills such germs and bacteria, making it safe for drinking, Yeo wrote.
Sick cows aren't allowed to produce milk for commercial use, he said, citing the company.
Modern Dairy fell as much as 13 percent, the lowest intraday level since September 2013, before trading 5.9 percent lower at HK$2.88 at the mid-day break in Hong Kong trading. China Mengniu Dairy Co., China's second-largest milk company which owns 28 percent of Modern Dairy, fell as much as 3 percent, while the benchmark Hang Seng Index was little unchanged.
Cooperating with Probe
Modern Dairy's Baoji Farm in western Shaanxi was found selling the infected cows, and the incident is being probed by police and animal health authorities from the provincial capital Xian, according to a report posted yesterday on the website of The Paper, which is affiliated to Shanghai-based Oriental Morning Post.
"The incident will not have a material effect on the financial condition or the operation of the group," Modern Dairy said in the statement, adding that it's cooperating with the government investigation.
Humans can be infected by bovine TB both by drinking raw milk from infected cattle or by inhaling infective droplets, according to the World Organization for Animal Health, or OIE. It's estimated in some countries as much as 10 percent of human tuberculosis is due to the bacteria, according to OIE.
In the U.S., bovine TB causes less than 2 percent of the total number of cases of human TB per year, or fewer than 230 incidents annually, according to the Centers for Disease Control and Prevention.
Brucellosis is also an infectious disease caused by bacteria that can spread to people in contact with infected animals or contaminated products, according to the U.S. CDC.
Modern Dairy had reported in August that net income more than tripled to 523.2 million yuan in the first half as raw milk prices rose.