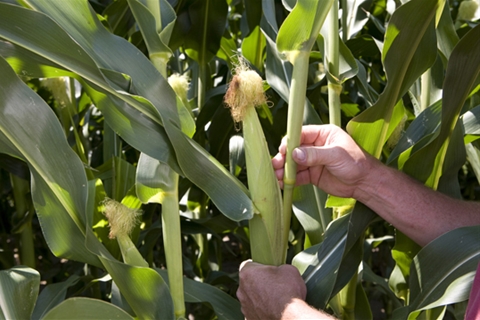 China's government has told traders and officials that the Ministry of Agriculture approved lifting a ban on imports of a genetically-modified corn variety that's commonly grown in the U.S., as trade talks between the two countries begin today, said people familiar with the matter.
The approval covers imports of the MIR 162 corn variety developed by Syngenta AG, according to people who were notified verbally by officials at the ministry. They asked not to be identified because information hasn't been made public.
"The move, if it materializes, will be a boost for China's imports of U.S. corn," said Li Qiang, managing director and founder of Shanghai JC Intelligence Co., an agriculture industry consultant. It would also be "a sign confirming the improving relationship between the two countries," he said.
The easing of curbs on U.S. corn exports to its largest market for food and agricultural products comes as China's government, the world's most-populous country and the biggest consumer of rice, soybeans and wheat, pushes forward with a campaign to gain public acceptance of genetically modified organisms and seeks to expand food supplies.
China's corn imports will fall to a four-year low of 2 million tons in the year through September 2015, according to forecasts by the U.S. Department of Agriculture. They could double to 4 million tons if the import ban is lifted, according to Li at Shanghai JC Intelligence.
The country has rejected over 1.2 million tons of U.S. corn cargoes since last year because they contain MIR 162, according to an estimate by the consultant.
Disrupted Shipments
Shipments to China of U.S. corn and corn-derived feed ingredients known as dried distillers grain have been disrupted as more than 10 percent of the U.S. crop comes from seeds containing the gene, making it difficult to guarantee any cargo is free of the trait, according to Meng Jinhui, an analyst at Cofco Futures Co., unit of state-owned Cofco Corp., the country's largest grain trader.
The Ministry of Agriculture didn't immediately respond to a faxed request for comment. Calls to the U.S. Embassy in Beijing weren't answered. Agricultural quarantine and inspection is one of the priorities at the U.S.-China Joint Commission on Commerce and Trade that starts today in Chicago, Shen Danyang, spokesman at the Ministry of Commerce, said today in a press briefing.
Corn futures have fallen 3.9 percent this year on the Chicago Board of Trade, trading at $4.055 a bushel by 12:17 p.m. London time. On the Dalian Commodity Exchange, the contract for May delivery closed at 2,394 yuan a ton ($9.84 a bushel), up about 2.4 percent this year.