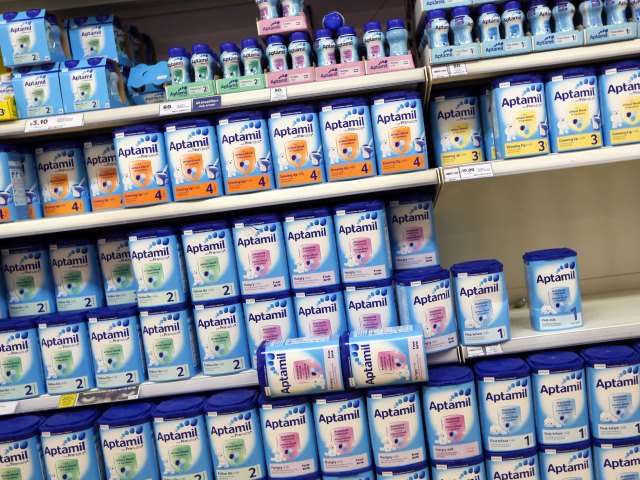 Foreign infant formula makers such as Danone may see a small but rapidly growing channel to the Chinese consumer close off as the government tightens a tax loophole that allowed lower prices on goods sold through websites operating outside of China.
Products sold on websites and shipped overseas to Chinese consumers face an effective tax increase of 11.9 percent starting this month as the government overhauls an e-commerce system that inadvertently gave some foreign companies, including Australia's a2 Milk Co. and Bellamy's Australia Ltd., a pricing edge over similar imported products available in China's domestic market.
Chinese authorities are cracking down on a gray market spawned by a cottage industry of websites and apps that made ubiquitous such practices as "daigou," where Chinese living abroad order baby formula, diapers and vitamins online on behalf of mainland consumers looking to avoid taxes. The regulation may pose a challenge for some foreign companies including Danone, whose Nutrilon and Cow & Gate brands are sold through such overseas websites.
Foreign companies "need to move toward direct sales because of what the Chinese authorities are doing to quash the gray market," said James Bascand, an analyst at Forsyth Barr Ltd.
'Daigou' Industry
Sales made on overseas websites have benefited smaller premium brands such as a2 Milk and Bellamy's that haven't invested as much into direct sales networks in China. UBS Group AG estimates that 55 percent of a2's infant formula sales comes from the Chinese gray market. Infant milk formula is a top daigou product, according to a Nielsen report. That's driven by Chinese consumers' preference for imported goods, especially after a formula milk contamination episode in 2008 that killed at least six babies.
Bellamy's shares surged more than eight-fold last year while a2 Milk's stock tripled. A2 Milk is "well placed to respond to the regulatory controls," Managing Director Geoffrey Babidge said at an investor presentation in Sydney April 12. It's "business as usual" for Bellamy's in the e-commerce channel, Chief Executive Officer Laura McBain said. Danone didn't immediately respond to requests for comment.
Bellamy's fell as much as 1.5 percent in Sydney trading Monday, and was down 1.2 percent at A$10.46 as of 11:24 a.m. local time, bringing its year to date slump to 23 percent. a2 Milk rose 0.3 percent. The benchmark S&P/ASX 200 Index was little changed.
In recent years, as much as 15 percent of the 55 billion-yuan ($8.5 billion) baby formula industry in China was fueled by purchases on overseas websites. The changes now effectively align gray market prices with infant milk formula sold directly in China, according to an April 13 UBS report.
Imports sold online were previously subject to a parcel tax of 10 percent, which retailers of small-ticket items like infant milk formula could avoid by limiting amounts for each transaction. Value-added and consumption duties will apply now instead.
The Ministry of Finance said April 13 that it also requires dairy companies to obtain an ingredient registration certificate from the Chinese Food and Drug Administration starting in 2018.
Overseas Dominance
Overseas brands have been dominating China's infant formula market since the melamine contamination scandal nearly a decade ago. Four of the top five suppliers of baby milk powder in the country are foreign companies, with Nestle leading the pack at 14.8 percent share of the market, followed by Mead Johnson Nutrition Co., according to Euromonitor International.
Mead Johnson President Peter Kasper Jakobsen said during the company's January earnings call that "it's clear that inadvertently the China regulations have created a tilted playing field that is very much tilting in favor of imported products sold through e-commerce."
With the rule change, companies will be challenged with finding suitable local Chinese partners to distribute their products.
The new tax levy "makes it incrementally harder to profitably send infant formula into China," UBS analyst Jordan Rogers wrote last week on a2 Milk. The "transition will require additional marketing costs, and could be more difficult because of industrywide price reductions and the mid-end and premium segments becoming increasingly competitive."