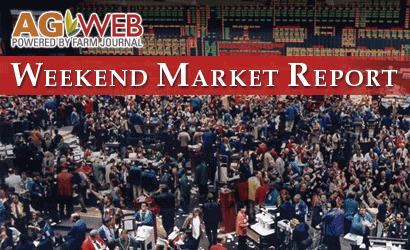 Rumors of an Argentina wheat purchase by China pushed commodity markets higher this week. Questions about what that really means pushed corn prices higher as well.
"Wheat was the dog out there for quite a while that had a billion bushel carryover and there was no reason for it to go higher. Then we had problems in Canada this summer, and of course Australia and we had plenty of feed wheat around. It's difficult to find wheat anywhere in the world of substantial for the premium side," says Jerry Gulke of the Gulke Group.
What precipitated this all was the rumor of China buying wheat from Argentina. Are they purchasing feed wheat, poorer quality wheat, to replace corn that were going to buy from us? This is yet to be known."
A higher open on Monday will tell us a lot, Gulke says. "We are due for a back off and I thought it would happen today. It didn't. For the week, being up 70 or 80 cents, you would think a 20 cent drop would be nothing."
On Monday if wheat rises above $8.00/bu. and it doesn't hold, that may indicate profit taking by speculators. If it stays higher, it could signal a significant very significant bull market on the technical side. (See Will Wheat Come to Life? from the December Top Producer.