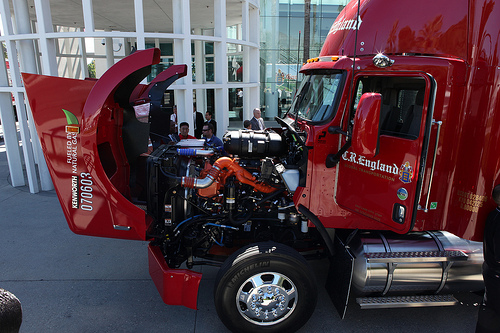 One of China's largest companies has joined the effort to expand the United States liquefied natural gas highway. In a Reuters exclusive, ENN Group Co LTD announced a partnership with Salt Lake City's CH4 Energy Corp forming Transfuels LLC which operates under the name BluLNG.ENN. Sources say ENN had originally approached T.Boone Pickens' Clean Energy Corp which already has 70 LNG stations in place -- although startup at many of those locations are waiting on demand for the fuel to pick up. Clean Energy refused the partnership.
From there, ENN looked to the upstart CH4 Energy, which had just one LNG refilling location at the time the deal was inked. But that number has already risen to five since then, and three more are set to come online soon. BluLNG.ENN plans 50 more stations by the end of 2013 at a price tag around $1 million each. At the same time, ENN completed work on a deal with Westport Innovations to collaborate with the LNG engine builder to help speed up the adoption of the new fuel (Westport's LNG engine pictured above).
Last month, your Inputs Monitor reported that Sinopec -- China's state-run oil and gas giant -- had made a deal with Chesapeake Energy for drilling rights in the Eagle Ford shale with a potential for a 34,000 barrels of oil per day offtake (click here for more). As U.S. shale resources boost profits for energy companies, China is in line to profit as well.
LNG is expected to, one day, replace highway diesel fuel for heavy haulers and busses. Before the fuel can be fully adopted however, infrastructure must be in place. BluLNG.ENN has the financial resources and the technical know-how to add to the progress that has already been made. Clean Energy has made a deal with Flying J truckstops and Shell is said to be in talks with TravelCenters of America LLC to provide LNG and the accompanying infrastructure. BluLNG.ENN has no such deal in place, but is well positioned to take part in spearheading this new industry.
The more LNG filling stations that pop up on the national map, the more faith heavy haulers will have in the fuel's ability to power the trucking industry. Many of the pieces are on the board and with BluLNG now associated with an LNG engine maker, inexpensive, clean burning liquefied natural gas shows a great deal of promise at becoming the industry standard.
---
 Photo credit: TruckPR / Foter.com / CC BY-NC-ND