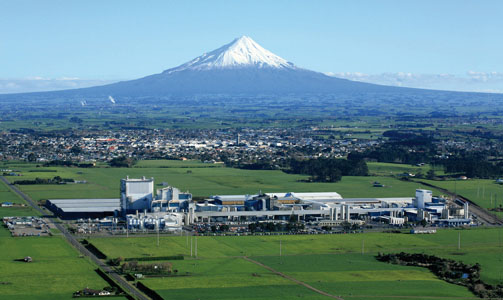 New Zealand's currency may drop to a two-year low, as a 50% slide in milk powder fuels speculation the central bank will delay interest-rate increases.
Netty Ismail
New Zealand's currency may drop to a more than two-year low, according to Morgan Stanley, as a 50 percent slide in milk powder fuels speculation the central bank will delay interest-rate increases.
The slump in prices for New Zealand's biggest export, along with benign inflation, will likely prevent the central bank from increasing its benchmark interest rate "for some time to come," Morgan Stanley strategists Geoffrey Kendrick and Jessica Liang wrote in a report yesterday. The price of whole milk powder fell this month to a five-year low at auctions held by GlobalDairyTrade, which is owned by Auckland-based Fonterra Cooperative Group Ltd.
The kiwi tumbled 9.6 percent since June 30 to 79.21 U.S. cents as of 10 a.m. in Tokyo, the worst-performing major currency after the Brazilian real. Swaps traders are betting Reserve Bank of New Zealand Governor Graeme Wheeler will keep interest rates unchanged tomorrow and through to at least April.
"The milk story globally is very soft," Kendrick, who is based in Hong Kong, said in a phone interview yesterday. "Either farmers are going to suffer because Fonterra has a low milk payout forecast -- which is very bad for the farming sector, therefore the economy will slow and RBNZ will be on hold for a long time -- or the kiwi dollar will fall and that will help."
Morgan Stanley this month cut its year-end forecast for the kiwi to 76 U.S. cents, a level the currency hasn't traded at since June 2012, from a previous projection of 80 cents, Kendrick said. It expects the New Zealand dollar to decline to 67 cents at the end of next year, rather than to 73 cents as previously estimated, he said.
China Demand
Dairy prices have slumped this year as China, Fonterra's biggest customer, bought less in fortnightly auctions after earlier building up milk-powder stocks. Fonterra cut its forecast milk payout to New Zealand farmers in September. It said on Sept. 24 it will pay its 10,500 farmer suppliers NZ$5.30 ($4.20) a kilogram of milk solids in the current season, down from a previous estimate of NZ$6.
"The New Zealand dollar remains sensitive to dairy news, and will fall further if Fonterra lowers its forecast payout for 2014-15," said Sean Keane, Auckland-based analyst at Triple T Consulting. "If Fonterra downgrades that forecast, we will certainly see more selling of the New Zealand dollar."
Rural spending is already set to slow as Fonterra's forecast last month indicates farmers will get about NZ$5.5 billion less from the 2013-2014 season after Fonterra cut its forecast milk payout, said Keane, the former head of Asia- Pacific rates trading at Credit Suisse Group AG.
Rates Meeting
The local currency could also trade lower if the central bank is "substantially more dovish" in its comments when it reviews interest rates tomorrow, Keane said.
The consumer price index rose 1 percent in the third quarter from a year earlier, after increasing 1.6 percent in the previous period. Slowing inflation makes it easier for Wheeler to keep the official cash rate unchanged at 3.5 percent after four increases between March and July.
Traders are seeing about a 95 percent chance that the RBNZ will hold borrowing costs through the April 30 meeting, swaps data compiled by Bloomberg show. They had seen a more than 50 percent chance of a rate increase by then, back on Oct. 1.
Wheeler was the first central banker from a developed nation to raise official interest rates this year after the RBNZ held them at a record-low 2.5 percent from 2011 to help revive the economy. The central bank announced on Sept. 29 that it sold New Zealand's currency in August in its biggest intervention in seven years.
"The key this week is whether or not things like the milk price story and the lower CPI from last week mean that they will go to neutral from a tightening bias," Kendrick said.